Cheryl's 'Love Made Me Do It' Is A Bold, And Surprisingly Fun, Return To Pop - HuffPost Verdict

HuffPost UK
09/11/2018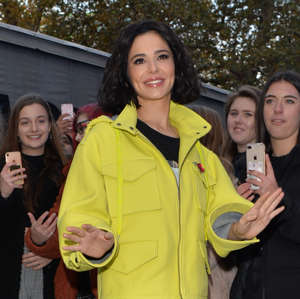 K E Y   P O I N T S
'Love Made Me Do It' is the lead single from Cheryl's upcoming fifth album
The song mark Cheryl's return to music after four years away, with her last release 'Only Human' coming out in 2014
Cheryl co-wrote the song with her former Girls Aloud bandmate Nicola Roberts, as well as production team The Invisible Men, pop star Natasha Bedingfield and songwriter Miranda Cooper
Lyrically, the song sees Cheryl reflecting on her past romantic mishaps, but declaring: "I'd do it again"
In an interview leading up to the release, Cheryl was quick to dismiss the notion the song was inspired by her relationship with ex-boyfriend Liam Payne, the father of her son, Bear
The stakes were pretty high for Cheryl in the lead-up to the release of 'Love Made Me Do It', her first solo release in four years.
Download the Microsoft News app for your Android or iPhone device and get news & live updates on the go.
A lot has changed in the time she's been away, with things in the pop world now moving at a much faster pace. A four-year absence is now more than enough time for fickle pop fans to more or less forget all about you (Ariana Grande, for example, has already begun releasing singles from her fifth album while she's still technically promoting her fourth), and Cheryl has been an absentee from the charts, and our TV screens, for enough time for some people to forget why we know who she is in the first place.

True, she's never been far from the headlines thanks to ongoing drama in her personal life, but if that were enough to sustain a pop career, Katie Price would be a platinum-selling artist at this point. So, if Cheryl really was going to make a success of things this time around, she'd have to put her best foot forward when it came to the lead single.

Fortunately for her, that's exactly what she's done with 'Love Made Me Do It'.

Expectations weren't exactly high for the future of Cheryl's pop career, particularly given that much of her last album 'Only Human' (her lowest-charting to date, which received a lukewarm reception from both critics and fans) sounded like she was going through the motions on autopilot. As it turns out, though, some time away from the spotlight is just what Cheryl needed to get herself back in the mood to create again, and come back with something completely different for her.

Guys... https://t.co/EMawLZcLEQ

— Cheryl (@CherylOfficial) November 9, 2018

'Love Made Me Do It' is a bold return for Cheryl, who could easily have released a mish-mash of everything else in the charts, slapped her name on it and hoped for the best, with an interview in The Sun tenuously linking the song to her recent break-up as promo. Instead, she's released something that actually takes risks and will definitely make people pay attention when they inevitably hear it on the radio.


Don't get us wrong, we're not dealing with Björk levels of experimentation or anything, and she's certainly not reinventing the wheel, but 'Love Made Me Do It' definitely sounds fresh enough to make people who might have forgotten about her in her four-year absence.

Lyrically, the track is Cheryl's most personal single to date. That doesn't mean she's out here giving us all the gruesome details of her recent split or anything (sorry to anyone who's only here for the gossip), but what she is doing is poking fun at her much-publicised romantic missteps and the way they've been portrayed in the media, in the same way Taylor Swift attempted with mixed results on her last album, 'Reputation'.

What's no doubt helped in this respect is the fact it's co-written with one of her best friends, former Girls Aloud bandmate Nicola Roberts, who helps her really put her personality and, indeed, sense of humour across in a way we've never really heard her do musically before.

#LoveMadeMeDoIt ❤️🤷🏻‍♀️ 09.11.2018 pic.twitter.com/kcE0MMEJkt

— Cheryl (@CherylOfficial) November 6, 2018

"Oh my god," she sings on the pre-chorus, "I'm such a sucker. I fall in love with every f**ker." It's a line that might seem like a lot written down, but it's Cheryl's shining tongue-in-cheek delivery that lets you know she's joking (or, at least, half-joking), in the same way she is on lines like "love made me do it, and I'd do it again" and "I'm a lover, not a hater, sure as hell won't take no blame for my behaviour". Brilliantly, there's also a throw-away spoken "nah" as she declares "oh no, I won't apologise", right before the ear-worm chorus really gets going.


Whenever Cheryl has tried to do "statement" songs in the past (2014′s 'I Don't Care', for example, or the "I'm trying something experimental, you know?" message of will.i.am collab '3 Words' back in 2009), they've always felt a little laboured, but by sending up what we think we already know about her, she's tapped into something brilliant, and it sounds effortless as a result.
Related: Look Back at Over 70 of Cheryl's Most Memorable Fashion Moments [POPSUGAR]