The secret ingredients chefs use to flavour their food

The Independent
31/08/2018
© Provided by Independent Digital News & Media Limited If you've ever tried to replicate a dish from a restaurant only to find it was lacking something, it was likely missing the chef's secret ingredient.

Secret ingredients, typically a kitchen staple, can elevate any dish - and chefs are now sharing their go-tos on question-answering site Quora in response to: "What is your number one secret food ingredient?"
According to chef Jordi Bross, there is one ingredient that he will not cook without - stock.
Download the all-new Microsoft News app – available now on iOS and Android
"It's essential to western cuisine and to most others around the world," he wrote. "[Stocks] are essential to get adequate flavour in a variety of dishes. They are the base for diverse sauces, glazes, and a huge variety of other preparations."

"Always have stock in your kitchen," he advised.
Bross isn't the only chef who considers the flavoured liquid an essential in the kitchen - other chefs agreed that it can significantly improve a dish.
Related: 26 food mistakes that might poison you (provided by Lovefood)
Another chef, Natt Soini, revealed that monosodium glutamate (MSG) is his secret ingredient, and claims that the flavour enhancer doesn't deserve its bad reputation.
"Half a teaspoon of it really brings the umami in your home cooking, even better than adding more salt or sugar," he wrote. "Also, the notion that MSG is dangerous for you is a myth."
© provided by Shutterstock Monosodium glutamate MSG is a commonly-used flavouring that became controversial after it was linked to side effects such as nausea and chest pain. The Food and Drug Administration (FDA) classifies it as an ingredient "generally recognised as safe," but requires that it is listed on food labels.
Additionally, soy sauce, fish sauce, and sugar were all on the list, as was vinegar, surprisingly.
According to home-chef and "eater" Chelsea Westmoreland, vinegar is often what a dish requires when it's missing "something" - and adding salt won't fix the problem.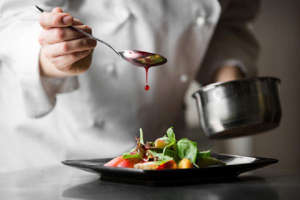 © Provided by Independent Digital News & Media Limited The secret ingredient can change a dish (Stock) "It's not salt, it's acidity" that's needed, she wrote.
For one chef, Ralph Oei, mayonnaise is the integral component - as it adds "acidity, sweetness, saltiness, and smoothness, without being too obvious."

To really transform a dish from boring to exceptional, all it requires is a dash of added flavour - from any one of the secret ingredients.
Watch: How to Make Shrimp Fried Rice (provided by My Recipes)