Valentine's Day menu ideas: Top chefs reveal perfect romantic dishes from seafood bisque to chocolate brownies

Mirror
14/02/2018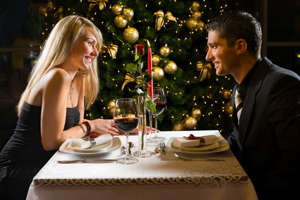 © Provided by Trinity Mirror Plc Some people will be hoping to impress their loved one through their stomach this Valentine's Day (file picture) (Image: Getty) Millions of people will soon be hitting shopping centres and high streets across Britain in a bid to find the perfect Valentine's gift for their other half. 

But some may be hoping to impress their loved one through their stomach on February 14 - by either going out for a meal or cooking up a feast.
For those opting for the latter, there is an important decision to be made - what romantic dish (or dishes) to serve up on the big day.
Below, three acclaimed chefs offer their expert views on what starters, main courses and desserts to make.
The recommendations of Shaun Rankin, Adam Handling and Vivek Singh were put together by Russums , a firm that sells catering equipment and supplies, last year.
And from seafood bisque flamed with brandy to chocolate brownies and raspberry chocolate fondant, they are bound to go down a treat.
SHAUN RANKIN
Michelin-starred Shaun was born in County Durham.
He told Mirror Online: "If you are looking to stay in and cook a romantic meal this Valentine's Day, beef carpaccio is an ideal dish to start with and it's also great for sharing.
"For main course I recommend sea bass with royal bay oysters, asparagus and confit lemon butter.
"This makes a nice light meal, while the sweet confit lemon intensifies the flavours of the dish.
"For dessert, I have to suggest warm chocolate brownies - the perfect treat to finish with."
Starter
Carpaccio of fillet with a horseradish ravoire and woodland mushroom salad
(Serves two)
Ingredients
250g beef fillet
100ml double cream
2 egg yolks
1.5 tbsp horseradish purée
Salt and cracked black pepper
½ tbsp mayonnaise
Juice of half a lemon
1.5 tbsp double cream, whipped
125g woodland mushrooms, sliced
8g unsalted butter
25g rocket and watercress salad
Olive oil
Parmesan cheese shavings, to serve
Method
1. Preheat the oven to 125°C (260°F/Gas 1).
2. Roll the beef fillet tightly in cling film so it stays in a nice cylindrical shape and place in the fridge to firm up.
3. In a saucepan, bring the double cream to the boil. Place the egg yolks in a mixing bowl, then pour the cream over the yolks and whisk continuously.
4. Add 1tbsp of the horseradish purée and whisk well. Season with salt and pepper.
5. Pour the mixture into an ovenproof terrine mould.
6. Place the terrine into a roasting tray with deep sides. Pour hot water into the roasting tray, making sure that the water only comes half way up the side of the terrine.
7. Carefully place in the oven and cook for about 35 minutes until set.
8. Once cooked, remove from the water bath, allow to cool, then place in the fridge until cold.
9. Whisk the remaining horseradish purée into the mayonnaise and add half the lemon juice. 

10. Fold the whipped double cream into the mayonnaise mixture.
© Provided by Trinity Mirror Plc 11. Remove the terrine from the fridge and in a bowl mix 5 parts of the horseradish bavoire to 1 part of the cream mixture. Store in a clean container in the fridge until needed. 

12. Slice the beef fillet thinly with a sharp knife and arrange onto the plates (if you find it difficult to slice the beef thinly you can put the slices between 2 pieces of cling film and use a meat hammer to flatten out). Season with salt and pepper. 


13. In a hot frying pan, cook the mushrooms in the butter, season and finish with the remaining lemon juice.
14. Arrange the hot woodland mushrooms and rocket and watercress salad over the beef.
Drizzle with a little olive oil, add a dollop of horseradish bavoire and scatter over Parmesan cheese shavings.
Wine Pairing
Malagousia Single Vineyard, Domaine Gerovassiliou, Epanomi, Greece 2015.
This wine is partially barrel-fermented and then matures on its lees for a few months.
It has a brilliant straw colour with greenish shades and an aroma of matured fruit such as pear, mango and citrus.
On the palate the wine has rich fruit and vegetal flavours with great minerality and a well- balanced finish. Perfect with beef carpaccio.
Main
Sea Bass Poached in Confit Lemon Butter with Asparagus and Royal Bay Oysters
(Serves two)
Special equipment
Steamer
Ingredients
125g unsalted butter
1 lemon
Salt and cracked black pepper
100g caster sugar
1 star anise
2 sea bass fillets
4 oysters, removed from their shells and the juice retained
6 asparagus spears
1 tbsp chopped chives
Method
1. To make the confit lemon butter, first put the butter in a bowl and leave to soften.
2. Grate the lemon zest and squeeze the juice from half the lemon. Add the lemon to the butter and season with salt and pepper. Mix well.
3. Put the caster sugar and 100ml of water in a saucepan and bring to the boil.
4. Slice the remaining lemon and add to the stock syrup. Add the star anise and cook on a low heat for about 20 minutes, or until the syrup is glossy and translucent. Leave to cool in the pan.
5. For the sea bass, roll out some cling film onto a board, keeping it flat and tight.
6. Place a spoonful of the lemon butter on the cling film; then place a sea bass fillet on top, skin side down.
7. Add a slice of the confit lemon, followed by another spoonful of lemon butter.
8. Fold the cling film over the mixture twice to form a parcel and tuck in the edges to make watertight.

9. Cook in a steamer for 9 minutes.
10. Remove from the steamer and carefully open the parcels at one end using a pair of scissors. Pour the juice into a saucepan and keep warm.
11. Pour the juice from the oysters into another saucepan and warm on a medium heat. Whisk in 1 tsp of lemon butter but do not bring to the boil. Add the oysters to the juice to warm through.
12. Meanwhile, snap the bottoms off the asparagus and steam for 5–6 minutes.
13. To serve, put the asparagus on the plates and place the sea bass on top. Spoon over the oysters and drizzle over some juice from the fish. Finish with a sprinkling of chopped chives.
Wine Pairing
Meursault Les Tillets, Domaine Patrick Javillier, Burgundy, France 2014.
A bouquet of lemon, green apple, wet slate, pear and a touch of baking spice and toast. On thepalate this wine is precise with driven acids, stony minerality and a fantastic oak integration. Verywell balanced, good volume and weight to match the sea bass main course.
Dessert
Double Chocolate and Macadamia Nut Brownies with Espresso Shots
(Makes 36 squares)
Special equipment
23 cm square baking tin
Ingredients
For the espresso shots
100ml double cream
4 tbsp coffee beans
70g good quality dark chocolate
3 tbsp coffee liqueur
For the chocolate brownies
80g self-raising flour
300g icing sugar
40g cocoa powder
300g good quality dark chocolate
180g unsalted butter
4 tsp golden syrup
2 vanilla pods
4 eggs
300g white chocolate shavings or buttons
80g macadamia nuts
Method
Espresso shots
Place the cream and coffee beans in a saucepan and simmer on a low heat for five minutes. Remove from the heat and allow to infuse for 20 minutes.
Strain the cream into a clean pan and return to the stove.
Add the chocolate and stir until smooth before adding the coffee liqueur.
Pour into shot glasses and chill in the fridge until set.
Chocolate brownies
Preheat the oven to
180°C (350°F/Gas 4). Line the baking tin with baking parchment.
Sift the flour, icing sugar and cocoa powder into a bowl.
Place the chocolate, butter and golden syrup into a pan and melt. Scrape the insides of the vanilla pods into the mixture and stir to combine.
Carefully crack the eggs into a bowl and whisk, using an electric hand-held whisk if you have one.
Fold the warm melted chocolate mixture into the eggs.
Then fold in the flour mixture, making sure it is fully incorporated.
To finish, add the white chocolate and macadamia nuts. Pour the mixture into the baking tin and bake in the oven for 30 minutes.
When it's cool enough to handle, remove from the tray and cut into squares.
Wine Pairing
Vin Santo del Chianti Classico, Isole e Olena, Tuscany, Italy 2006
Yellow gold colour, elegant and nutty style, light toast, vanilla, nutmeg, almond and butterscotch with a hint of botrytis.
Very good length and amazing with chocolate brownies!
ADAM HANDLING
© Provided by Trinity Mirror Plc Credits: Adam Handling Adam is a former finalist on Masterchef, the Professionals.
The 28-year-old runs the restaurant The Frog in Spitalfields, London.
He said last year: "Scallops, apples, hazelnuts is a great starter for Valentine's Day because so much of the preparation can be done beforehand.
"When you're ready to eat, you can cook the scallops and make the puree in about 10 minutes! The scallops should only be cooked on one side – make sure they are golden brown before coming off the heat.
"Adding burnt apple puree and acidic fresh apple brings the scallops alive.
"For main, Chicken and Lobster Yellow Curry is a decadent recipe, perfect for a special evening. To make life easier for yourself, buy a really good quality lobster that's already been cooked and prepared by your fishmonger. The curry paste can be made up to a few weeks beforehand, leaving more time on the evening itself.
"Raspberry Chocolate Fondant is the perfect dish for a Valentine's dessert. Everyone loves a chocolate fondant, and adding a flavoured marshmallow in the centre takes it to a whole new level."
Starter
Scallops, apples, hazelnuts
(Serves two)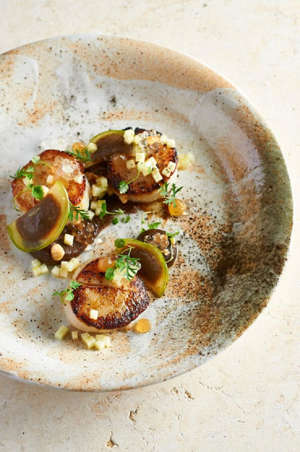 © Provided by Trinity Mirror Plc Scallops, apples, hazelnuts (Image: Adam Handling) Ingredients

For the scallops
6 scallops, shucked from their shells
Oil for frying
Pinch of salt
Knob of butter
1 tbsp lemon juice
For the apple pickle
½ an apple
80ml water
2 tbsp white wine vinegar
1 tbsp sugar
Pinch of salt
For the vanilla apple
½ Granny Smith apple, diced
Vanilla pod
1 tbsp lemon juice
1 tbsp sugar
25ml water
For the burnt apple puree
1 Granny Smith apple
Method
The day before cooking, make the apple pickle and vanilla apple. For the apple pickle, slice the apples thinly (if possible, use a mandoline). Place all the ingredients except the apple into a saucepan and bring to a simmer.
Remove from the heat and add the apple. Leave for 5 minutes then add the mint. Leave to cool then place in the fridge to marinate for 24 hours.
Make the vanilla apple by adding all of the ingredients except the apple into a small saucepan. Bring to the boil then remove from the heat. Infuse for 24 hours.
Ten minutes before you're ready to eat, make the burnt apple puree by quartering the apple and placing on a small baking tray lined with tin foil.

Bake in the oven at 180 degrees for 30-35 minutes or until darkly coloured. Allow to cool then blitz in a food processor until smooth. Pass through a sieve.
At the last possible minute, prepare the scallops for cooking. Place a frying pan on a medium heat with a touch of oil. Season the presentation side of the scallops with a pinch of salt. Place the scallops in the frying pan, presentation side up, and cook until golden brown. Add the butter and baste.
Finish with a squeeze of lemon juice.
Remove from the pan and serve immediately.
Main
Chicken and Lobster Yellow Curry
(Serves two)
Ingredients
For the curry paste
1 red chilli
1 shallot, chopped
1 clove garlic
50g chopped ginger
20g lemongrass
20g Thai ginseng
15g shrimp paste
10g chopped kaffir lime peel
10g fresh or dried coriander root
10g turmeric
5g coriander seeds
5g cumin seeds
5g dry peppercorns
For the lobster
2 freshly cooked, prepared female lobsters
For the chicken
1 crushed clove garlic
Sprig of thyme and rosemary, crushed
2 boneless chicken thighs
Olive oil
Salt and pepper
For the yellow curry
1 tbsp oil
2 tbsp palm sugar
1 tin coconut cream
1 tbsp fish sauce
Salt and pepper to season
Method
Prepare the curry paste first by adding all ingredients to a blender and combining.
Pre-heat your oven to 180°c. Coat the chicken thighs with the garlic, herbs, oil, salt and pepper. Line a roasting tray and cook for 20 minutes.
Turn the oven down to 170°c. Remove the chicken skins from the thighs and scrape off the excess fat. Place on a baking tray in the oven for 8 minutes, or until crisp.
Add oil, palm sugar and coconut cream to a wok on a low heat. Add the pre-prepared yellow curry paste and bring to simmer, stirring continuously for 2 minutes.
Add coconut milk to stop the paste from burning. Add the fish sauce and season to taste and then pass through a fine sieve.
Dice the lobster and chicken meat and place in the warm sauce. Serve with Thai jasmine rice or by itself.
Dessert
Raspberry Chocolate Fondant
Ingredients
For the cake
50g dark chocolate
50g butter
2 small eggs
65g sugar
1 tbsp flour
1 tbsp cocoa powder
Pinch of salt
2 raspberry marshmallows
For the raspberry marshmallows
50g sugar
20g glucose
1 tbsp water
1 tsp gelatine powder
25g raspberry puree
Method
Prepare the raspberry marshmallows first: Bring sugar, water and glucose to 119°C in saucepan, and add the gelatine powder. Add purée to mixing bowl with whisk attachment; slowly add syrup to purée while whisking until the mixture is fully aerated.
Line a tray with cling film and spray with a little oil to stop marshmallows from sticking. Place on rack until set then cut into cubes.
To make the chocolate fondants, melt the chocolate and butter together in a microwave or saucepan. Whisk the eggs and sugar together until pale and fluffy. Gently fold in the melted chocolate mixture. Sieve the flour and cocoa powder together and fold into the chocolate mixture, adding the pinch of salt.
Place the mixture into a piping bag and refrigerate for 1 hour.
Line 2 6cm diameter ring moulds with silicone paper or greaseproof paper. Half fill each ring mould with the fondant mixture, then place a large marshmallow into the centre of each. Encase the marshmallow completely with the remaining fondant mixture. Leave at least a 2cm gap at the top of the ring.
Refrigerate until needed, and then cook at 160 degrees for 9 minutes.
VIVEK SINGH
© Provided by Trinity Mirror Plc Credits: Vivek Singh Vivek is the Executive Chef at The Cinnamon Club, Cinnamon Kitchen, Cinnamon Soho, Cinnamon Bazaar and Cinnamon Kitchen Oxford.
The Indian chef has appeared on a number of TV shows.
He said last year: "We believe that our innovative, modern style of Indian cooking at The Cinnamon Club is perfect for Valentine's Day.
"There simply isn't a more romantic cuisine than elegant dishes packed full of exotic spices and tantalising heat."
Starter
Keralan seafood bisque flamed with brandy
(Serves four - so you can save some for later!)
© Provided by Trinity Mirror Plc Credits: Vivek Singh 1 lobster, cut in half lengthwise and cleaned
200g shrimps, peeled and de-veined
200g squid, cleaned and cut into rings ½ cm thick
1 teaspoon salt
½ teaspoon red chilli powder
25g salted butter
For seafood stock
1 ltr water
300g prawn or lobster shells
200g fish bones, cleaned under running cold water
1 carrot, roughly diced
100g button mushroom, roughly cut
1 onion, peeled and roughly dices
1 teaspoon black peppercorns
1 bay leaf
100g green coriander root, fennel trimmings or celery trimmings
For the spice mix
2 garlic cloves
1 tablespoon coriander seeds
1 teaspoon cumin seeds
1 teaspoon black peppercorns
For the soup
3 tablespoons vegetable or corn oil
10 fresh curry leaves
½ teaspoon red chilli powder
3 ripe tomatoes, quartered
800 ml seafood stock
1 teaspoon salt
1 tablespoon chopped fresh coriander
2 tablespoons coconut milk
1 tablespoon single cream
½ teaspoon sugar
Juice of 1 lemon
2 tablespoons brandy
Method
Cut open the lobsters and remove all the meat. Use the shells for making stock and cut the meat into ½ inch cubes. Keep all the trimmings aside for use in the soup.
For the stock, clean the shells and bones, add the vegetables, vegetable trimmings and spices and the water and bring to a simmer. Carefully remove the scum as it rises to the surface, taking care not to let the liquid boil vigorously at any stage. Simmer for 20 minutes, strain and reserve the liquid.
To make the spice mix, pound all the ingredients together using a mortar and pestle to a coarse paste.
Heat half the butter and oil in a sauce pan, add the spice mix and curry leaves and sauté until the garlic turns golden brown. Add the red chilli powder and lobster trimmings and sauté for a minute.

Add the tomatoes and salt and stir till they become soft. Now add the stock and bring to a simmer. Lower the heat and simmer the soup for about 30 minutes.
Add the coconut milk and mix well. Remove from fire and blend the soup with a hand blender and pass through a strainer.
Heat the butter in a sauce pan, add the lobster meat, shrimps and squid and sauté for 2 minutes. Add the soup and bring to a simmer.
Stir in the cream, sugar, lemon juice and coriander leaves.
Remove from fire and keep aside. Take the brandy in a ladle, warm it over low flame until it catches fire. Pour the brandy over the soup and keep covered for 2 minutes.
Transfer the soup with the seafood into 4 soup plates and serve hot with naan bread.
Main
Rajasthani Roast Rump of Lamb with Corn Sauce
(Also serves four)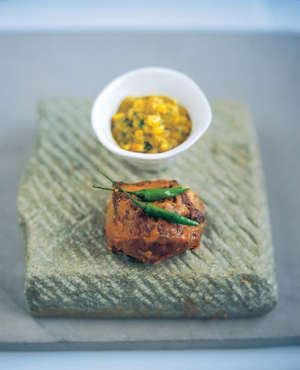 © Provided by Trinity Mirror Plc Rajasthani Roast Rump of Lamb with Corn Sauce (Image: Vivek Singh) Vivek says: "Though this dish is full of Indian flavours the technique of searing the meat and then reducing the sauce is distinctly French in style. The silky corn sauce is common to much of Rajasthani cuisine but we like to use a mixture of mashed and whole corn kernels to give a more interesting texture. Serve with Star AnisePilau Rice."

Ingredients
4 x 175-200g lamb chump chops or saddle steaks, fat trimmed off
1 tablespoon vegetable or corn oil
For the marinade
½ teaspoon red chilli powder
½ teaspoon salt
1 tablespoon vegetable or corn oil
For the corn sauce
100g ghee or clarified butter
8 cloves
2 black cardamom pods
1 bay leaf
2 onions, finely chopped
3 green chillies, chopped
½ teaspoon ground turmeric
1 teaspoon salt
1 tablespoon garlic paste
110g lamb, finely diced
200g sweetcorn (canned is fine)
4 tablespoons plain yoghurt
150ml lamb stock
6cm piece of fresh ginger, finely chopped
50g fresh coriander, chopped
Juice of 1 lemon
Method
Mix together all the ingredients for the marinade and rub them over the lamb.
Set aside to marinate for 20-30 minutes.
Meanwhile, make the sauce. Heat the ghee or clarified butter in a heavy-based pan and add the cloves, cardamom and bay leaf.
When they start to crackle, add the onions and cook on a medium heat until golden. Add the chillies and cook for 1-2 minutes.
Then add the turmeric and salt and sauté briskly for a minute, taking care that the dry spices do not start to burn.
© Provided by Trinity Mirror Plc Credits: Vivek Singh Add the garlic paste and cook, stirring, for a couple of minutes. As soon as the fat starts to separate out at the side of the mixture, stir in the diced lamb.
Cook for 4-5 minutes, until browned, then add three-quarters of the corn and all the yoghurt. Cook gently for about 30 minutes, stirring occasionally, until the corn is nearly mashed and the sauce is becoming very thick.
Add the lamb stock, bring back to the boil, then add the ginger, coriander and the remaining corn. Reduce the heat to medium and simmer for 10 minutes. Check the seasoning and add the lemon juice.
Heat the oil in a large ovenproof frying pan over a medium heat, add the lamb and sear for 4 minutes on each side. Transfer to an oven preheated to 180°c/350°F/gas mark 4 and roast for 6-7 minutes.
Leave the meat to rest for 3-4 minutes, then cut into slices.
To serve
Divide the sauce between 4 serving plates, place the lamb on top and serve.
Dessert
Saffron poached pear with cinnamon ice cream
(Makes 20 portions)
© Provided by Trinity Mirror Plc Credits: Vivek Singh Poached pear
Ingredients
20 Pears (peeled)
3000 ml water
1000 gm sugar
5 gm Saffron
Method
Poach the peeled pears in the saffron syrup for 15 minutes (until pears turn soft).
Take out the stone of pears with a melon baller. Prepare the yoghurt and raisin stuffing.
Fill the stuffing in the hollow stone cavity and store chilled.
Brandy snap tuil
180 tuils
Ingredients
500 g icing sugar
500 g butter
500 g liquid glucose
500 g plain flour
Method
Beat the sugar and butter into fluffy cream. Add flour and liquid glucose and bit the whole mixture for some more time until everything mix evenly.
Bake the thin layer of the mixture in oven at 175°C until brown. Cut into appropriate shape store in dry place.
Cinnamon ice cream
(80 scoops)
Ingredients
1000 ml single cream
1000 ml milk
300 g granulated sugar
200 g trimoline
10 g ground cinnamon
Extra
The Cinnamon Bellini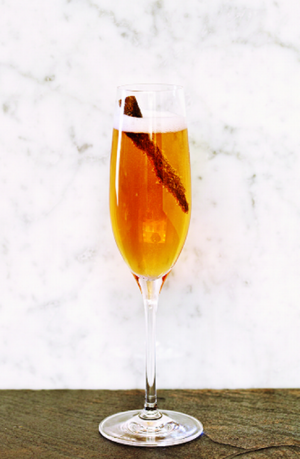 © Provided by Trinity Mirror Plc The Cinnamon Bellini (Image: Vivek Singh) Ingredients

200ml cinnamon tea (made with Assam tea infused with cinnamon sticks, then allowed to cool)
5ml Goldschläger cinnamon schnapps
2ml cinnamon syrup
125ml Prosecco
Method
Mix together the cinnamon tea, Goldschläger and cinnamon syrup in a Champagne flute and top it up with Prosecco.
If you're trying to impress a loved one through their stomach on Valentine's Day, you can find handy tips - such as how to sharpen a knife - on Russums's website .
For more of the most popular News, Sport, Lifestyle & Entertainment on MSN, Follow us on Facebook, and on Twitter