More than half of LGBT people suffer depression, Stonewall study finds

Evening Standard
08/11/2018
More than half of LGBT people have suffered depression in the past year, according to a major new study.
A report by LGBT (lesbian, gay, bisexual and transgender) charity Stonewall found 52 per cent had experienced depression and 61 per cent anxiety.
Download the Microsoft News app for your Android or iPhone device and get news & live updates on the go.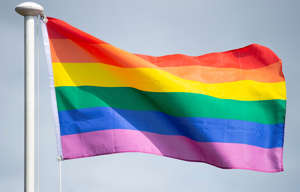 © Getty Rainbow flag Stonewall's "health report", a survey of 5,000 LGBT people, found one in eight people aged between 18 and 24 have attempted to take their own life in the past year.
For trans people, it also found 46 per cent had thought about taking their own life.
Stonewall chief executive Ruth Hunt said the report had uncovered "worryingly high rates of poor mental health experienced by LGBT people in Britain today".
She said: "Despite the strides we've made towards LGBT equality in recent years, many LGBT people still face significant barriers to leading healthy, happy and fulfilling lives in Britain today.
"Many LGBT people – particularly those who are trans – continue to be 'outed' without their consent, treated with inappropriate curiosity and subjected to unequal treatment because of who they are.
"Knowing that we have somewhere to turn when our health is in crisis is crucial. These findings stand as a stark warning that for too many LGBT people, this still isn't the case."
The report also addressed discrimination in the healthcare system, with 25 per cent reporting "inappropriate curiosity" from healthcare staff because they are LGBT.
Meanwhile, 16 per cent of all respondents said they drank alcohol almost every single day.
Gallery: 19 Natural Remedies for Anxiety [Health.com]