Increasing number of fathers want access to paternity leave, new research suggests

The Independent
12/06/2018
An increasing number of fathers crave further access to paternity leave, according to research.
Called "Helping Dads Care", a new report from Dove Men+Care and Promundo – an organisation that promotes gender equality – has revealed that a growing number of men would like to be more involved in the early weeks and months after the birth of their child.
However, these findings follow the news that 40 per cent of men do not take paternity leave.
The global report, which surveyed initially in the US, found that most dads experience the desire to spend time with their children early on.
MSN has launched a campaign to tackle loneliness, which affects 9 million across all age groups and walks of life in the UK. Discover more on this 'silent epidemic': Please donate now
So much so, that almost two thirds of fathers (63 per cent) reported that they had quit or would consider quitting their job to be involved in the early weeks or months of caring for their child.
A similar percentage of men (62 per cent) also said they would consider taking a lower paid role.
Despite this, the findings also revealed that many men fail to take paternity leave even when it is offered, with 38 per cent admitting to taking no time off following the birth of their child.
Related: 10 heartwarming quotes on fatherhood from celebrity dads (Provided by Prima UK)
It found that this was largely because of negative perceptions in the workplace, with more than one in five fathers (22 per cent) stating that they were afraid of losing their job if they took the full amount of paternity leave offered.
A global issue that affects men all over the world, the report says that despite fathers in Japan being allowed to take up to 52 weeks of leave at 60 per cent salary, and the legalisation of shared parental leave in the UK since 2015, only 2 per cent of men in both countries take it.
"This research has shown that paternity leave truly matters to today's men," says Gary Barker, founder of Promundo.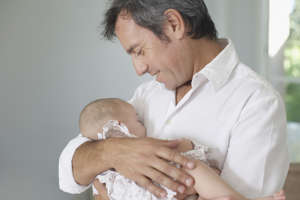 "They want it and they want to take it. The fear that holds them back is worrying about what others think — their bosses, their co-workers, their family."
As a result of the findings, Dove Men+Care is launching a new film entitled "Dear Future Dads" to highlight the choices surrounding paternity leave and the long-standing effects on fathers and their children when they spend time together during that initial period.
It is also providing an online hub which will include information for men who are considering taking paternity leave and raising awareness of the issue at the UN in 2019.
MSN Loneliness Campaign: Who's affected and how is loneliness being tackled? Discover more and please donate now