Viral video of man proposing to girlfriend at her graduation sparks backlash: 'You really took her moment from her'

The Independent
17/05/2018
© Provided by Independent Digital News & Media Limited A video of a man proposing to his girlfriend as she celebrated her college graduation has gone viral, sparking backlash from those who claim he "took her moment from her".

Last week, James Clark shared a video on Twitter that showed him asking his girlfriend Marquell for her hand in marriage on the day of her graduation.
The video has since gone viral, garnering almost 100,000 likes and causing a huge debate concerning whether Mr Clark was right to propose during such a monumental occasion in Marquell's academic career.
Baby, I love you with everything in me..who would've thought we'd make it this far? 6 years ago I asked you to be my girlfriend in the halls of Dutchtown High and here you are today MY FIANCÈ! Congrats on graduating today! Now we can put all the things we talked about in play❤️ pic.twitter.com/hZhwDwa4ZK

— JuicemanJames (@_JayClark_)

May 11, 2018
"Can I just say something real quick? I'm just so proud of my gorgeous, intelligent girlfriend," Clark said in the video as the couple stood surrounded by loved ones.
"I also want to say we've been dating for six years and through all my trials and tribulations she's always been with me so I'd just like to give her a special graduation gift that I've been holding onto for a second."
Mr Clark then proceeded to go down on one knee and pop the question, which Marquell responded to by saying "yes".
Several people have pointed out that Marquell didn't look particularly enthused by the public proposal, with some saying Mr Clark's proposal made the occasion more centred on him as opposed to the graduate.
"Why are some men like this? The focus is no longer her and her accomplishment but rather on him and his proposal," one person wrote.
"He couldn't wait till dinner or the next day, he had to have an audience and make it about him?"
Another person claimed that he was "stealing her shine".
she didn't look too happy

— joooostine (@xQucvi) May 12, 2018
She looking like Rihanna when Drake gave that VMA speech

— Onyinye (@ookwuosa34) May 13, 2018
If anything she was probably uncomfortable with all the attention being on her, and not unhappy about the proposal..

— Janeava Floyd (@Jane_floyd_) May 13, 2018
However, others have pointed out that she responded accordingly when one considers the public manner of the proposal.
"I feel like if I get proposed to in front of all those people. I'm gonna react like this, I'm awkward asf," an individual commented.
Another person remarked: "So because she didn't pretend to freak out and faint, she's not happy? Y'all have issues."
Hope 2017 is as good to me as you are🤞🏾 pic.twitter.com/WtgKtqW2QC

— JuicemanJames (@_JayClark_) January 1, 2017
Others have expressed their admiration for the proposal, with one commenter writing: "A man that celebrates success with you is a blessing."

Marquell decided to set the record straight on Twitter, explaining that she's extremely happy about the turn of events.
"For everyone concerned if I was excited about my proposal! I AM VERY HAPPY! I'm where ya'll want to be… a degree and engagement all in one day," she wrote.
"Jealousy is really a disease ya'll need to find Jesus! Y'all are so hateful please seek help!"
In 2016, Chinese diver He Zi was proposed to by her boyfriend, fellow diver Ki Qin, while receiving a silver medal on the podium at the Rio Olympics.

Some believed the proposal overshadowed her impressive sporting endeavour by making it appear as though the prospect of marriage was a greater achievement.
Related: The science of love: 24 facts about happy relationships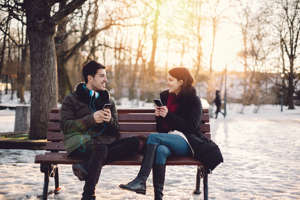 For more of the most popular News, Sport, Lifestyle & Entertainment on MSN, Follow us on Facebook, and on Twitter