12 Spring Sauces to Liven Up Any Meal

Cooking Light
16/04/2018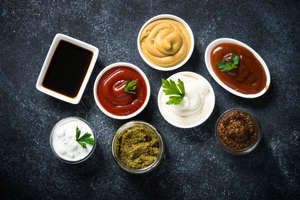 © provided by Shutterstock set of sauces A spoonful of sweet-and-sour sauce and an earthy avocado blend make addictive companions for seafood and grilled meats. For sandwiches and leftovers, we've added a dash of comfort in the form of a homemade barbecue sauce and a twist on a classic salad dressing.

Avocado-Cilantro Sauce
© Caitlin Bensel Be sure to include the cilantro stems when blending the sauce (pictured at top); they have even more flavor than the leaves. Add this cool, creamy concoction to pan-grilled chicken or tacos.
View the recipe:Avocado-Cilantro Sauce
Meyer Lemon Vinaigrette
© Greg DuPree Meyer lemons, the stars here, are in season late winter through early spring. They taste like a cross between a lemon and an orange—fresh citrus flavor without too much pucker. Drizzle the vinaigrette over grilled chicken or salmon.
View the recipe:Meyer Lemon Vinaigrette
Arugula-Mint Pesto
© Greg DuPree We like the flavor of toasted, skin-on, whole almonds, but any almonds will taste great—just be sure to toast them first for the extra depth of flavor. Serve this sauce over grilled flank steak or lamb chops, or toss with tuna, white beans, and cherry tomatoes.
View the recipe:Arugula-Mint Pesto
Zippy Almond Butter Sauce
© Greg DuPree Almond butter isn't just for toast; it's also a great base for savory sauces. Use this creamy condiment as a dip with chicken satay or baked tofu. Be sure to use plain unsweetened almond milk.
View the recipe:Zippy Almond Butter Sauce
Five-Spice Mango Sauce
© Greg DuPree Look for five-spice powder with other specialty spices in most supermarkets or at an Asian market. For the smoothest texture and best flavor, use a ripe fresh mango (thawed frozen will work in a pinch). Serve with stir-fried shrimp or broiled cod.
View the recipe:Five-Spice Mango Sauce
Nuoc Cham
© Caitlin Bensel This sweet-and-sour sauce is seriously addictive. We replace traditional white sugar with brown to add a caramel note. Spoon over grilled meats, sautéed shrimp, or ground pork.
View the recipe:Nuoc Cham
Caesar Sauce
© Caitlin Bensel We took the classic dressing elements and thickened them for a creamy sauce that's delicious on salmon or for reviving leftover rotisserie chicken. Finely grated garlic has a big kick, so start with half a clove.
View the recipe:Caesar Sauce
Quick Barbecue Sauce
© Caitlin Bensel The ingredient list for this sauce is short and practical—you likely have most of the ingredients on hand. Use as a glaze for pan-seared pork tenderloin or toss with shredded chicken for sandwiches.
View the recipe:Quick Barbecue Sauce
Everything Bagel Aioli
© Caitlin Bensel Your favorite bagel flavor just got upgraded to sauce superstar. Try this drizzled over eggs Benedict, spread on a grilled chicken burger, or spooned over grilled red onion wedges.
View the recipe:Everything Bagel Aioli
Strawberry-Shallot Salsa
© Caitlin Bensel Sweet strawberries mingle with lime and nutty coriander in this fresh take on salsa. Try this vibrant sauce spooned over pan-seared halibut or sprinkled with feta over grilled pork-and-zucchini kabobs.
View the recipe:Strawberry-Shallot Salsa
Kimchi-Bacon Jam
© Caitlin Bensel Salty and smoky with a kick from the kimchi, this chunky, chutney-like jam is delicious on grilled burgers and hot dogs, or as a surprise condiment on your next cheese and crudités platter.
View the recipe:Kimchi-Bacon Jam
Hot Mustard Sauce
© Caitlin Bensel If you love the spicy mustard that's often paired with Chinese egg rolls, whip up this tangy, cayenne-spiked sauce. Serve it with grilled tofu or chicken tenders, or drizzle it over roasted broccoli.
View the recipe:Hot Mustard Sauce
Related: Madeleine Shaw's Coconut Recipes For Sunnier Days (provided by Refinery29)
For more of the most popular News, Sport, Lifestyle & Entertainment on MSN, Follow us on Facebook, and on Twitter