National Trust In Cornwall Apologises Over 'Heinous' Scone Faux Pas

HuffPost UK
13/03/2018
© nicolamargaret via Getty Images It's well-documented that Cornwall and Devon don't see eye-to-eye when it comes to the ordering of cream and jam on scones. But clearly someone from Lanhydrock National Trust didn't get the memo.

A Facebook post on 8 March from Lanhydrock House in Cornwall invited the public to bring their mums along for afternoon tea on Mother's Day (11 March).
An assisting photograph showed scones on a plate with cream first and then jam. However the Cornish way is notoriously the opposite - and people were less than impressed by the error.
Tim Brampton commented: "There's nothing Cornish about those scones #jamfirst - come on National Trust keep Cornwall Cornish!" Katie Craggs added: "Come on Lanhydrock - this is Cornwall, jam first and clotted cream ON TOP!!!"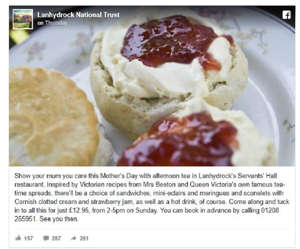 Lanhydrock National Trust/Facebook A Cornish scone will typically have the jam first and clotted cream on top, while the method in Devon is to do cream first and jam on top. Find out more about making them here.
After being inundated with furious comments, the National Trust site apologised for the blunder. A tongue-in-cheek apology, posted on Facebook on 9 March, read: "We'd like to sincerely apologise for any offence caused by a recent scone-shot shown on the page. The member of staff responsible has been reprimanded and marched back over the Tamar.
"We'd like to reassure our Cornish community that our catering team would never make such a heinous mistake and that our jam and cream are usually served in little pots so the order of their application is not subject to such appalling error. Rest assured, your mothers are safe here."
On 10 March, they shared another status saying the team would be wearing #jamfirst badges on Mother's Day in support of a proper cream tea. The social media team added: "And there's no truth in the rumour that we're renaming the property Jamhydrock..."
Related: Donut Chips (provided by Extra Crispy)
For more of the most popular News, Sport, Lifestyle & Entertainment on MSN, Follow us on Facebook, and on Twitter