Why You Should Make Your Bed Every Morning

Southern Living
13/05/2018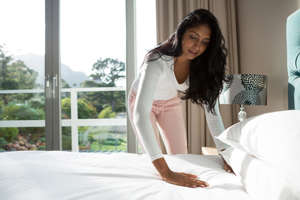 Think about the first item on your to-do list every day. Walking the dog? Making breakfast? Dropping off the kids at school? Completing an assignment at work? There's one daily chore that I've always dreaded: making my bed.
Southern bedrooms are known for being stylish, dressed with traditional accents like upholstered headboards, plush sets of linens, monogrammed shams. A well-made bed provides a bedroom with a sense of structure; it's a put-together retreat away from the chaos of everyday life outside of it.
© Getty Images/Tom Kelley Archive Growing up, my mom wouldn't let my brother and me eat breakfast before our beds were made. Other than a means for an allowance, I never understood why she ordered us to complete this task every day. A seamstress in her spare time, my mom sewed sets of matching throw pillows for my bedding ensemble, making the chore all the more tedious on busy school mornings.
She dropped me off at college with one piece of advice: "If there's at least one thing you can accomplish every day, it's making your bed." I initially disregarded it, excited about my newfound freedom from an annoying chore. But in a tiny dorm room, even a few pillows strewn about looked messy and took up valuable floorspace, so I started making up my bed before class every day.
Video: How to make your bed better this season (Now To Love)
Before running out the door each morning, I remember my mom's advice and make up my bed. It's comforting to come home to a put-together retreat at the end of a chaotic day.