Victoria Beckham has the best advice for working mums

Hello!
21/09/2018
© @Copyright HELLO! Hello! Magazine Victoria Beckham has shared some pearls of wisdom with parents who feel guilty about going out to work and pursuing a career.
The mum-of-four, who just celebrated the tenth anniversary of her eponymous fashion line, said parents shouldn't beat themselves up for trying to do both.
Speaking to E! News, Victoria explained: "Just don't feel bad. Just don't feel guilty. We're trying to do the best that we can. You want to be the best wife, the best mum, the best professional and just be good and kind to yourself."
Download the all-new Microsoft News app to receive up-to-the minute news from the world's best sources – available now on iOS and Android
The fashion designer also revealed how she and husband David approach parenting to ensure their four children - Brooklyn, 19, Romeo, 16, Cruz, 13, and seven-year-old Harper - are all polite and know how to treat people with respect.
© Ian West/PA Wire/PA Images Victoria Beckham departs after her London Fashion Week SS19 show in Dover Street, London. "We are strict with the kids," she said, adding: "You have to be, but at the same time still allow them to have fun and express themselves."

Victoria had the full support of her family when she hosted her first London Fashion Week show on Sunday, with David and the children sitting front row. But they haven't always been allowed at her shows, with Victoria recently admitting that she made the conscious decision not to invite them earlier on in her career.

© Chris Jackson/PA Wire/PA Images David and Victoria Beckham arriving at St George's Chapel at Windsor Castle for the wedding of Meghan Markle and Prince Harry. "I just kept my head down, worked hard, and always made it about the product and the customer, rather than about me as a celebrity," Victoria told Refinery29. "It was quite a few seasons before I came out at the end of the show, and my family didn't attend the first few seasons. I really wanted it to be about the clothes and nothing else."
Related: Victoria and David Beckham's stylish couple moments (Photos Services)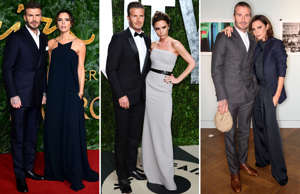 Victoria successfully reinvented herself from pop star to designer after launching her fashion brand in 2008. Currently, her label stocks clothes and accessories in more than 500 stores in over 60 countries around the world, with celebrity fans including Eva Longoria, Gwyneth Paltrow, Sienna Miller and Blake Lively.
Watch: Why you should enroll your kids in piano lessons, according to science (Time)