Meghan Markle Bonds with the Queen and Her Royal In-Laws on the Buckingham Palace Balcony

Harper's Bazaar
10/07/2018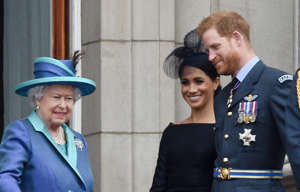 © Provided by Getty Meghan Markle's latest royal appearance provided more proof of how well she's getting along with her royal in-laws. While celebrating the 100th anniversary of the Royal Air Force, the Duchess of Sussex made her second appearance on the Buckingham Palace balcony, where she mingled with members of her new family.
Markle stood with Prince Harry to the left of the Queen while watching the flypast above the palace. At times, she was seen chatting with Her Majesty, Prince Charles, Camilla, Duchess of Cornwall, and Prince Andrew (Princess Eugenie and Princess Beatrice's dad).
Meghan Bonds with Royals at Buckingham Palace
© Royal Air Force / Facebook
The Duke and Duchess of Cambridge also joined in on the fun. 
© Getty Images Meghan Bonds with Royals at Buckingham Palace The Duchess of Sussex has had plenty of sweet moments with her royal in-laws since tying the knot to Prince Harry in May. She shared a memorable laugh with the Prince of Wales and Duchess of Cornwall at a Buckingham Palace garden party days after her wedding. She and the couple were seen laughing on the sidelines while Prince Harry gave a speech, and Markle was later spotted being affectionate with the Duchess on the lawn. 
A month later, she was also seen chatting it up with Duchess Camilla and the Queen at the Royal Ascot. Markle and Her Majesty have had some adorable interactions, especially during their day of joint engagements in Chester in June.
© Facebook Meghan Bonds with Royals at Buckingham Palace Meghan seems to be getting along quite well with Harry's family. She even reportedly helped her husband repair his relationship with his father. Prince Charles told his friends of his daughter-in-law: "She is so intelligent and so nice. She makes Harry happy. We could not like her more," a source told the Daily Mail.
Related: Meghan Markle Referenced Her Wedding Dress During a Royal Appearance (Provided by Time)