What is Halloween? Why do we celebrate it? And what is Samhain?

Evening Standard
16/10/2018
For some, Autumn only means one thing - and no, we're not talking about pumpkin spice lattes and the crunch of leaves under foot.
Yep, it's that time of year again when the nights draw in and start to become an altogether more spooky affair with Halloween just around the corner.
Download the Microsoft News app for your Android or iPhone device and get news & live updates on the go.
What started off as a festival with ancient traditions, nowadays Halloween is a byword for carved pumpkins, trick or treating and over-the-top costumes.
But where did Halloween come from, what does Halloween mean and why do we celebrate it?
Here's the lowdown:
What day does Halloween fall on?
Traditionally known as All Hallows' Evening, Halloween falls on October 31. It is always the eve of Christian festival All Saints' Day on November 1.
Gallery: Your Kids Won't Have Any Room For Candy After These Halloween Dinner Ideas [Delish]
What is Halloween and where did it come from?
Dating back to European traditions, Halloween originated from the ancient Gaelic festival, Samhain. It was a day to celebrate the end of the harvest season – it means "summer's end".
It is thought that the Pagan Samhain was Christianised into Halloween by the early Christian church, and modern day customs have their roots in early folklore, Pagan beliefs and early Christianity.
The word Halloween itself is a Scottish term for All Hallows Eve - basically, the evening before All Saints' Day.
Historically Gaels thought the walls between the spiritual realm and our world were thin. In order to protect their crops, they would set up places at their dinner tables for good spirits and light bonfires to scare off evil spirits.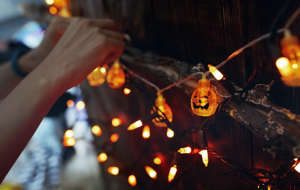 Trick or treating and dressing up came from 16th Century Ireland, Scotland and Wales. People would ask for food in exchange for a poem or song. People dressed up in scary costumes and impersonated the souls of the dead to protect themselves.
Why do we celebrate it?
Halloween became commercialised over time from the influences of pop culture and is celebrated by both children and adults, whether they are going to parties or carving pumpkins.
Trick or treating was coined by the Americans, who evolved the British tradition of "souling" or "guising" to the main event for children as we know it today.