A modern new look for the Cannes Film Festival red carpet

Evening Standard
16/05/2018
If a year is a long time in fashion, it's an even longer time in cinema.
Or so this year's Cannes Film Festival would suggest, with a protest held by 82 women gifting the event with the most cinematic of freeze-frame moments. Staged just six months after allegations surrounding Harvey Weinstein shocked the world, the headlines from this year's showcase are about the power of women and their pursuit of equality.
This in mind, the one-way conversation I might normally have in this column about who wore which gown by which designer seems as limiting as it is discourteous. But if you'll excuse my insolence I'd like to do so, because in watching Cannes from afar, it's clear that something extraordinary is happening. The ball gown is no longer a prerequisite. At least it has been knocked down a peg or two, with more and more attendees choosing to shun tradition in favour of clothes that confirm and reflect a modern new age for the festival.
Take a glance at the relaxed trouser suits and the statement sweaters, worn (gasp!) with a pair of flat pumps instead of towering stilettos, and it's clear to see: there is change afoot on the French Riviera.
It is from those choosing to buck the tried and tested trends of Cannes that a best-dressed list which is unlike any other in the festival's history emerges. Among the leading figures are Léa Seydoux — an actress who represents a vibrant new generation of female film-makers — who favoured cocktail style sweaters and thigh-skimming Louis Vuitton shirt dresses instead of conforming to classic Cannes tradition.
She is joined by Kristen Stewart, who packed an array of Chanel trouser suits to accompany her on her trip to the French Coast, and by Carey Mulligan, who marched to her own tune in a scarlet tuxedo.
Saturday night's protest serves as the most glorious example of Cannes' prevalent new image, with women from across the length and breadth of the film industry choosing to take to the red carpet in everything from shift dresses and trouser suits to their favourite pair of jeans. The result was a spectacle which unearthed these women at their most powerful and a key change for the festival which counts gowns and honking great diamonds as crucial to its DNA as the Palme D'Or.
Of course Cannes is Cannes and accordingly there were gowns aplenty on the Le Croisette this year, with puffy and princessy giving way to moody shades and strong silhouettes.
When jury president Cate Blanchett made her impassioned speech on Saturday she did so in a streamlined creation by Giorgio Armani. It was a fitting complement for a woman who would have looked statuesque had she decided on a bin bag to wear to the occasion.
Stepping out in show stopping Givenchy, Julianne Moore made a similar impact. Cut with pin-sharp precision and laden with feathers, here was a dress that made no apologies for Moore's pre-eminence. It was empowering — and completely fabulous.
In 2018, a year in which battles for flexible working and equal pay are as pertinent as they have ever been, the descent of princess dressing on Cannes's red carpet makes for refreshing viewing. After all, while a couture gown laden with 20kg of diamonds might be one woman's fairy tale, for many — for most — it's not a practical choice.
Certainly, it is the women who are demanding beautifully made, red-carpet-worthy fashion that reflects the busy and varied lifestyles they lead that are interesting fashion designers right now. Keen to deliver a rare breed of haute couture that feels relevant in 2018, the most talked about couturiers are those who are ploughing a new path for the actresses they dress with options designed to empower instead of overshadow. 
Related: 2018 Cannes Film Festival: Best red carpet looks (Provided by Microsoft GES)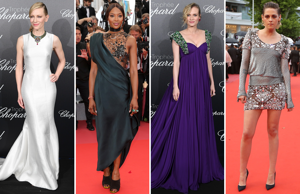 For more of the most popular News, Sport, Lifestyle & Entertainment on MSN, Follow us on Facebook, and on Twitter