Why David Beckham's Latest Suit Teaches A Timeless Style Lesson

Esquire (UK)
28/06/2018
© Getty Images Why Every Man Needs David Beckham's Latest Suit Wardrobe staples are, by their very nature, something we use to fill in the blanks. And that means they're not always terribly exciting. Make like David Beckham however, and you've a surefire way to make the best of the basics (it is humanly possible, we promise).
At the Queen's Young Leaders Award Ceremony, the OBE honouree proved why every man needs a navy suit. It'll chime with a wide array of events on the calendar, sure. But in addition to the various Queen meetings and weddings and public announcements and general do-good-ery on Beckham's calendar, the humble blue suit is an easy way to flex colour without going overboard.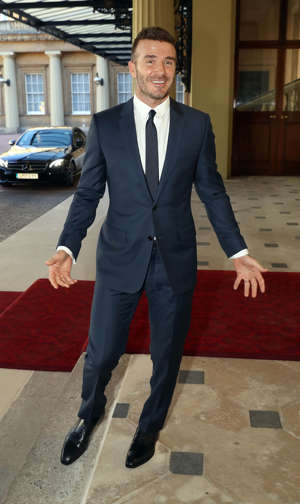 © Provided by Getty What's more, a razor sharp fit speaks far louder than any left-field gimmick or on-trend move - and it'll age a lot better too. That means you save a few extra quid for alteration (unlike Beckham, you don't always have to head down Savile Row), and finish with all the right accessories: pocket square, a minimally detailed tie and a Swiss watch if you're feeling extra fancy.
Related: The Beckham Effect: Queen Is All Smiles While Greeting David at Palace Party (Provided by People)
MSN Loneliness Campaign: Could you go a week without seeing anyone? We're helping three charities raise funds for the 9 million people affected by Britain's 'silent epidemic'. Find out more and please donate now.