Why Meghan Markle's christening dress was her best style statement yet, according to experts

The Independent
10/07/2018
© Provided by Independent Digital News & Media Limited Meghan Markle has been at the vanguard of sartorial conversations ever since she stepped into the spotlight as an actor and humanitarian.
Now, as the Duchess of Sussex and a bona fide member of the British royal family, her style choices are making more of an impact than ever before, sparking a number of global trends.
While critics will dispute her most influential look is tied between the gowns designed by Clare Waight Keller and Stella McCartney for her wedding to Prince Harry, it is her most recent ensemble, as debuted at Prince Louis' christening on Monday, that fashion experts are hailing as her savviest choice yet.
Donning an olive green dress by Ralph Lauren complete with modest three-quarter sleeves and a knee-grazing hemline, the Duchess channelled a conservative aesthetic that was both elegant and understated - a look that perfectly suited the overall stateliness of the occasion.
Related: Top fashion moments of Meghan, Duchess of Sussex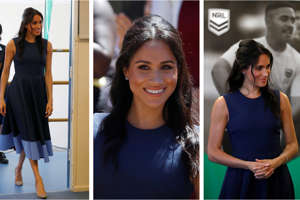 "I thought the ambiance of Meghan's outfit yesterday was sublime," explains celebrity stylist Alex Longmore.

"She didn't steal the show from Kate and got the 'demure fade into the background stylishly' look just right."
The look was also a nice change in terms of headwear, Longmore tells The Independent, adding that Markle has struggled with formal headwear thus far, as it's arguably a new phenomena for her.
"There have been awkward pictures of her holding her hat, flicking her hair and looking very self conscious on public engagements," she said.

"However, yesterday it was like she had got the hang of it and I thought the style of the Stephen Jones creation captured her features and was fitting for the day's event."
One of the most surprising aspects of Markle's look was its deep autumnal shade - a hue that is usually reserved for the chillier months.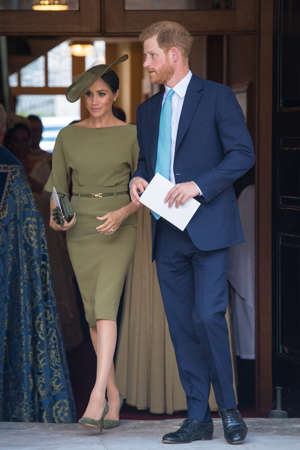 © Dominic Lipinski/PA Wire/PA Images The Duke and Duchess of Sussex depart after attending the christening of Prince Louis at the Chapel Royal, St James's Palace, London. However, according to Emily Gordon-Smith, head of fashion at trends company Stylus, it's a choice that is reflective of fashion's ephemeral colour zeitgeist.
"Traditionally one might think of this shade as autumnal but in recent years we have been seeing the rise of what we call seasonless colour," she tells The Independent, "shades that are resonating all year round as we continue to dress in an increasingly season-neutral way.
"This means that colours like this olive green, khaki and deep wine reds have been trending year round."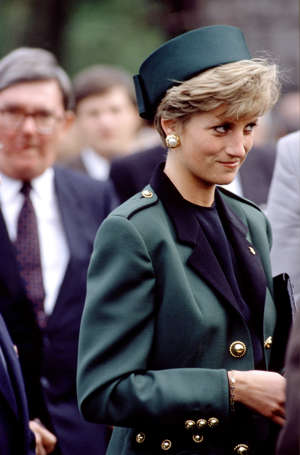 © Provided by Shutterstock The late Princess Diana wore an olive green military-style suit on an official visit to Czechoslovakia in 1991. (Rex Features) Colour editor and trend forecaster at WGSN, Hannah Craggs, agrees, adding that Markle's diversion from the conventional pastel shades that dominate spring/summer wardrobes is a refreshing change that reflects the Duchess' sartorial autonomy.
"Warm olive and earth-toned neutral shades are trending in spring/summer 2018 and beyond, which in part is due to the continued influence of streetwear on high fashion seemingly Megan Markle and her styling team are acutely aware of this," she tells The Independent.
Related: Meghan Markle's wedding dress designer spills details on how it came to be (provided by People)
"Taking a confident step away from her safe naturals and blush-toned wardrobe, instead adopting this colour shows that she is keen to forge her own look with a keen eye on contemporary style.
"This level fuses subtle connotations of military heritage with fashion forward design – Meghan's fresh olive green gives a soft sophistication and provides a modern alternative to expected fashion neutrals."

Some savvy fashionistas have even pointed out on social media that Markle's choice mirrors the habits of the late Princess Diana, who donned a number of olive green looks during her royal tenure.