France floods: is it safe to travel to flood-hit Gard in Southern France?

Evening Standard
10/08/2018
© Provided by Independent Print Limited francefloods0908-0.jpg Heavy floods have hit parts of Southern France, forcing the evacuation of 1,600 people.

Over 400 firefighters and police have been deployed to the worst affected areas, with a search mission currently underway for a 70-year-old German man who was helping supervise children at one of the summer camps.
Thought to be the end result of unusually hot temperatures in France this summer, UK Met Office meteorologist Marco Petagna estimates almost 3 inches of rain fell within a 24-hour period.
Here's everything you need to know about where the floods are, and whether your travel plans will be affected:
Where in France are the floods?
The floods have surged their way through Southern France, with Gard, Ardèche and Drôme being the worst hit areas.
The Ceze and L'Ardeche rivers broke their banks in the northern part of the Gard region.
The Gard is part of the Languedoc-Roussillon region of southern France. It's a popular destination with keen sightseers, thanks to its proximity to a collection of Roman ruins.
Nearby regions - all part of the verdant and mountainous Cevennes - were also hit with flooding.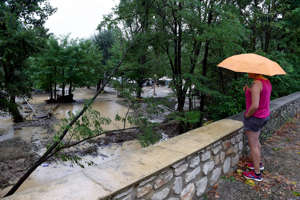 What caused the floods?
The sudden rush of flooding comes after France - and much of Europe - experienced prolonged heatwaves over the summer.
The heat brought with it an onslaught of thunderstorms, with torrential downpours turning several campsites into mudbaths.
Is it safe to travel to Southern France?
The French interior ministry has said six departments were placed on flood alert.
The Foreign Office is yet to announce any restrictions regarding travel to France.
They advised on their website: "There can be risks of flooding in various areas of France, and avalanches in the mountainous areas.
"If your accommodation is near a river, check the vigicrues website to be kept informed of any potential flood risks. If you plan a skiing or hiking trip, check weather conditions and follow local advice before going."
Watch: French campsite destroyed by flood (provided by Sky News)