Here's why people are surprisingly still going to Tunisia

Easyvoyage
19/05/2017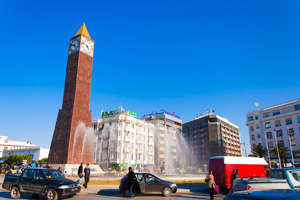 © Provided by Webedia SAS Increase in links between European cities and capital Tunis In spite of widespread problems troubling the North African nation, air links between European cities and Tunisia are expanding at a fast rate.
The latest announcement from the Foreign Office advises travellers against anything but emergency travel to Tunisia. The country has had its State of Emergency extended for a further month, and the FCO bulletin warns that "terrorists are very likely to try to carry out attacks in Tunisia".
The attacks in summer 2015 sparked widespread safety concerns about travelling to Tunisia. In June 2015, 30 British holidaymakers were among the victims of an attack carried out by a sole gunman at a hotel in the coastal resort of Sousse. The UK government consequently issued an official warning against travelling to Tunisia.
Anyone choosing to go is likely to discover that their travel insurance is invalid. However, London now has a daily flight service to the capital city, Tunis. Tunisair, the national carrier, has also added an extra Gatwick connection. Flights run four times weekly from Heathrow, and thrice from Gatwick.
A spokesperson for British Airways said that reinstating the carrier's link with Tunis is not forseen at the present moment. They said: "We constantly review our route network and customer demand, but we have no current plans."
However, British Airway's sister airline, Vueling, has launched a service from Barcelona to Tunis, planning a second weekly service starting from next month. Air France has added two extra weekly flights from Paris.
Lufthansa has raised services to Tunis from seven to 11 times a week, flying from Frankfurt. Across the Atlantic, Tunisair is implementing a third weekly service from Montreal to Tunis.
Tunisia forms one of the six countries where passengers are banned from carrying electronics in the cabin on direct flights to the UK. The Department for Transport says: "We are confident these measures are proportionate and effective."
Watch: In Tunisia's Djerba, visitor numbers cheer tourism sector (by AFP)
More from Easyvoyage

Easyvoyage