Why summer holiday flights are always at antisocial times

The Independent
18/04/2019
Why, asks Carol L, do all the flights this summer to the Canary Islands or Greece either leave the UK or arrive back at antisocial times? They all seem to depart outrageously early or get back extremely late.
"I was looking for a holiday in September 2019 in the Canaries or Halkidiki," she says. "All the return flight times seem to be landing in the UK after midnight. It is difficult enough with a young family without getting home at 3am.
"Have they stopped doing daytime flights that arrive in the UK early evening, or have all the civilised flights have sold out?"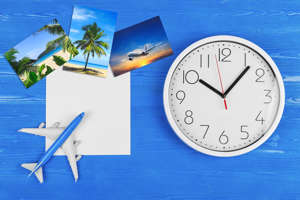 For September holidays, there is no possibility that flights will have sold out. To understand why some flights are at antisocial times, you need to look at the challenges from the airline's point of view.
Today, the vast majority of holiday flights from the UK originate in the UK. A decade or two ago there were a lot more European players, but formerly significant carriers like Spanair and Olympic's offshoot Macedonian Airlines have disappeared.
British Airways, easyJet, Jet2, Thomas Cook Airlines and Tui have the outbound holiday market to the Med and beyond almost to themselves. The only significant foreign airline is the Irish low-cost giant, Ryanair, which incidentally now flies around one in four holidaymakers from the UK to Spain – including the Canaries.
Gallery: 16 of the world's coolest airports (Love Exploring)
In summer, airlines like to fit in as many hours of flying for their planes, pilots and cabin crew as they reasonably can. Between May and October, and especially late July and August, is when they make all their profit – and more, given that they typically lose money for the rest of the year. Consequently that means starting early and finishing late. But there are limits.
At the back end of the 20th century, I recall spending too many sleepless flights to and from the Mediterranean in the middle of the night. Airlines would typically do something like Alicante and back, then Faro and back during the day.
Then for the graveyard shift they would add a late departure to Athens or Istanbul with departure around 9pm arriving at the destination in the early hours, then turning around to land back in Britain at about 6am, ready for the next day's activity.
But passengers, it seems, have become less tolerant of flights that gets you in to some dismal fluorescent-lit foreign airport at 3am on day one of your holiday, and is waiting at 4am on day seven to take you home.
Overnight flights are also a strain for the extremely hardworking cabin crew and pilots. And with even more intense air-traffic control and weather delays forecast for this summer, it helps to have five or six hours' buffer to catch up if staff shortage at Karlsruhe control centre or storms over Biscay cause delays to build.
Instead airlines plan for summer operations with departures starting around 6am, and inbound flights designed to touch down at a time when most people (who tend to have their own cars) can get home in time to have something resembling a night's sleep. This also has the bonus of making all arrivals at, and departures from, the overseas airports to be at a civilised time.
So, how do these fundamentals work out in practice? Holiday flights from the UK to the Canary Islands and Greek destinations are longer than average. For example, Bristol to Lanzarote and Edinburgh to Thessaloniki (the airport serving Halkidiki) are both around 1,600 miles, which means a flying time of around four hours. (For comparison Bournemouth to Girona is less than half the distance, and just two hours.)
Suppose an airline made the times as civilised as it could for those longer journeys. Can we agree on an 11am departure from the UK and a 8pm arrival back (allowing for an hour on the ground at the far end for unloading, loading and refuelling)? Lovely. That would enable someone living an hour from the airport to leave at perhaps 8am before the outbound flight, and be home by 10pm after the inbound leg.
But such a comfortable schedule would trash the experience for passengers on the same aircraft during the rest of the day. To squeeze in a "rotation" to somewhere like Alicante or Palma at either end would require a 5am departure from the UK or a 4am arrival back.
Better for the airline to use the same aircraft for a couple of long sectors in a single day, which means something like a 7am departure for either the Canaries or Greek destinations, and getting back at 1am for the other.
Hence from the average Canary Island or Greek airport, there are two waves of UK-bound flights: one around lunchtime and another in mid-evening. While there are some airport combinations with only late arrivals home, such as Fuerteventura to Liverpool and Thessaloniki to Birmingham, for most other locations you can generally find an early-morning out/mid-afternoon back option.
Honourable mentions, though, for Jet2's links from Birmingham, Leeds Bradford and Manchester to Paphos in Cyprus – out at roughly 9am, back at 8pm. But don't be surprised if you pay a premium for humane flight times.
Gallery: The world's haunted hotels that will keep you up all night (Love Exploring)