Bridesmaids left stranded on side of motorway face race against time to make it to wedding

Mirror
01/08/2017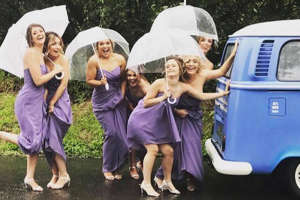 © Provided by Trinity Mirror Plc The bridesmaids saw the funny side after being stuck on the M4 on their way to their friend's wedding (Image: Lydia Anne Tibbet) Wedding days are normally about getting the bride to the church on time - but for these bridesmaids it was a case of getting them to the wedding reception before it ended.

The seven friends had just watched Laura Metcalf get hitched to Sam Hayes and were on their way to the wedding reception when disaster struck.
Their retro camper van started to make funny noises and at first, they joked about how funny it would be if they broke down.
But moments later the driver had to pull over on the M4 in Wales and everyone was forced to get out - in the pouring rain.
Luckily the girls saw the funny side and posed for a photo, carrying umbrellas and showing off their gorgeous purple gowns.
© Provided by Trinity Mirror Plc (Image: Lydia Anne Tibbet) Bridesmaid Lydia Tibbet told Wales Online: "We were laughing at first about how it was making a strange noise and we were saying 'Can you imagine if we broke down?' 

"Then it did break down and we had to pull over on to the hard shoulder and all get out in the pouring rain. Luckily, we had some umbrellas and we saw the funny side of it.
"The driver took some pictures and we got this brilliant one of us laughing in the rain.
"Laura and Sam were in the car behind us, but we told them to go on to the reception."
They were travelling along the M4 in a 25-year-old purple camper van from Cilybebyll Church near Pontardawe to the reception at the King Arthur Hotel on Gower at the time.
The bridesmaids were stuck on the side of the M4 near Swansea for around 40 minutes before another car came to collect them and take them on to the reception.
And they were given a big welcome.
Lydia added: "We were worried we were going to miss the canapes, but they kept some for us and when we finally made it, we got a massive cheer."
Related: Your Go-To Guide to Finding the Right Wedding Gift (provided by People)