'Moneymooners' are choosing to spend wedding cash on paying off bills, survey reveals

Evening Standard
06/07/2018
© Provided by Evening Standard Limited Instead of spending their cash on a romantic honeymoon, newlyweds are more likely to use their wedding present money to pay off bills, a survey has revealed.

As more and more couples — dubbed moneymooners — request cash over wedding presents, research shows the money is increasingly used to settle debts and pay for work on their homes. Some also use it as a contribution towards a holiday.
According to new data, 82 per cent of Londoners asked for monetary gifts when they got married. But just six per cent used it on a honeymoon.
Related: Dakota Johnson wore the beach wedding dress of our dreams at the "50 Shades Freed" premiere (provided by Hello Giggles)
On average newlyweds in the capital receive £1,014.43 in cash gifts at their wedding, and guests spend an average of £81.62 on presents.
The research, based on a survey of 750 people, found one in 10 guests would be upset if they knew the couple spent cash gifts for any other purpose than that specified. In addition, more than one in five felt that giving gift cards was likely to reduce the chance of money being spent on bills.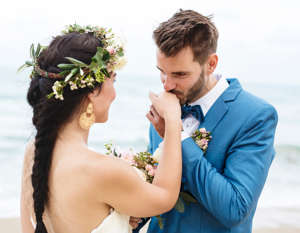 © Provided by Shutterstock Couple getting married. Rachel Delaney, group marketing manager at One4all Gift Cards, which conducted the research, said: "It's interesting to see just how many married couples are spending their cash gifts on bills or paying off debt, especially when the money was supposed to pay for a honeymoon or something else more specific.
"It's understandable that after saving and paying for a wedding, newlyweds might want to relieve the financial pressure they are under, but it's important to remember that the gifts they are given by loved ones are given for them to enjoy."
The trend of asking for cash over wedding gifts sparked fury on popular parenting forum Mumsnet last month.
Related: 24 Ways to Create a Rustic Chic Wedding
A wedding guest wrote: "We have been invited to a wedding. Evening invite only. The invitation included a tacky poem asking for cash gifts. The bottom line is, we can't really afford to give cash."
One Mumsnet user replied: "Look, they are basically treating you like a cash cow. It's very rude to request money from guests."
Another agreed: "How can people demand cash from guests who they don't consider important enough to attend the main event? Bloody cheek."
MSN Loneliness Campaign: Could you go a week without seeing anyone? We're helping three charities raise funds for the 9 million people affected by Britain's 'silent epidemic'. Find out more and please donate now.