These are the most popular engagement rings for 2018

Evening Standard
18/03/2018
© Provided by Evening Standard Limited Gone are the days of the OTT diamond and classic princess cut engagement rings, new data has revealed.

Favoured by the celeb set in the early 2000's, 'the bigger the better' mentality is no more when it comes to engagement rings, rather loved-up couples are favouring more affordable and quirky bling.
According to new data from Pinterest, searches for 'moissanite gems' were up by a whopping 249 per cent, while searches for 'art deco' rings were up 173 per cent and 'oval stones' 125 per cent.
Last year, the coloured engagement ring began to trend, and it seems to have continued this year with Princess Eugenie's engagement diamond being a striking shade of pink.
Related: The Real History Behind Kate Middleton's Royal Jewelry (provided by POPSUGAR)
London designer, Lily Kemper, who specialises in bespoke engagement rings told Refinery29, "I think art deco has always been popular.
"The proportions are satisfying and so is the symmetry. You can see amazing antique pieces in the shops in Hatton Garden which are still so popular today."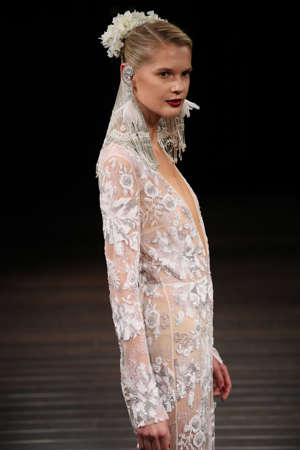 © Provided by Shutterstock A model walks the runway for Naeem Khan Bridal show Fall/Winter 2018 Collection during Bridal Fashion Week on October 6, 2017 in New York City. Other notable trends on Pinterest's annual wedding report found searches for high necklines on wedding dresses are up a massive 351 per cent, searches for sleeves are up 75 per cent and searches for wedding jumpsuits are up 178 per cent. Thank you, Solange.

Searches for rose-coloured dresses are up by 46 per cent as the colour trend transcends just the rings, while searches for champagne coloured dresses are up 358 per cent.
With two royal weddings set to take place this year, expect to see many replicas of Meghan Markle and Princess Eugenie's dresses and rings in the near future.
Related: Princess Eugenie Shows Off Sapphire Engagement Ring (with Major Kate Vibes!) in New Portraits (provided by People)
For more of the most popular News, Sport, Lifestyle & Entertainment on MSN, Follow us on Facebook, and on Twitter