Sterling drops further with investors fixated on Brexit
The Financial Times
21/03/2019
© Getty (FILES) In this file photo taken on October 05, 2017 British one pound sterling coins are arranged for a photograph in central London on October 5, 2017. - The British pound extended losses on March 20, 2019 after Prime Minister Theresa May requested EU leaders to delay Brexit until June 30, sparking greater uncertainty over the nation's departure from the bloc. (Photo by Daniel SORABJI / AFP)DANIEL SORABJI/AFP/Getty Images The UK's currency took a further hit on Thursday as investors continue to watch the twists and turns of the UK's imminent departure from the EU.
Sustained pressure on the pound sent it down a further 0.6 per cent to $1.13116 — a five-session low.
With the Brexit deadline just 8 days away and no clarity on any extension to it, investors moved into UK government debt, at a faster pace than the rally for its eurozone neighbours. The yield on 10-year gilts fell almost 8 basis points to 1.08 per cent, its lowest since December 2017.
Related gallery: what to know about Brexit [GES]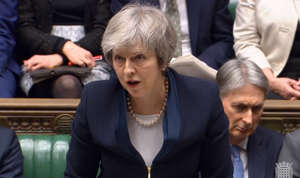 "Sterling continues to be volatile, pushed and pulled around as the news unfolds," said Dean Turner at UBS's Wealth Management Office
"Any delay is likely to have consequences for the economy, which will struggle to shake off the unending Brexit uncertainty. We still believe that, at some point, the UK Parliament will agree to leaving the EU with a Withdrawal Agreement in place — it may just take a little longer to get there."
The Bank of England's Monetary Policy Committee is expected to make an announcement shortly on interest rates.
NOW READ:
Dublin top Brexit pick for financial firms fleeing UK (Independent.ie)
Rokit launches two glasses-free 3D smartphones in the US and UK (Pocket Lint)