Cyclist in his mid 20s taken to hospital with serious injuries after being 'wiped out by car' in Ringsend

Dublin Live
21/03/2019
© Catalyst Garda stock photo A man in his mid 20s was left with serious injuries following an incident with a car in South Dublin.
The man was cycling in the Ringsend area when a witness said he was "wiped out by a car turning left".
The man received very bad head injuries but the witness also added that the cyclist was not wearing a helmet.
The incident took place on the South Lotts Road just before 10:30am and firefighters and paramedics were on the scene immediately. 

The cyclist was treated on scene and transported to hospital on arrival.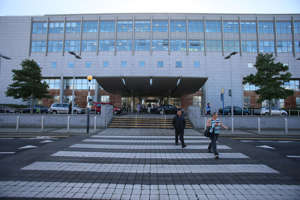 © PA Gardaí are calling the incident a road traffic collision and have said that the male cyclist was taken to St. Vincent's Hospital.

This was only one of three reports of cyclists being injured in the capital yesterday.
Another eye witness saw a cyclist being put into an ambulance after an incident at the North Quays.
While reports also stated that a female cyclist had fallen off her bicycle on the Clonskeagh Road near Charles Hurst garage.

Gardaí confirmed that they did not have any information regarding the incidents at the North Quay or on Clonskeagh Road.
NOW READ:
Brexit: EU to reject May's request for three-month delay (The Guardian)
'Laura was the light in the life of everyone who knew her' - tributes flood in for HPV vaccine advocate (Independent.ie)
A 24-year-old is accused of killing a mob boss. It gets weirder from there (The Cut)