Deadly Storm Helene poses 'a threat to life' when it hits Ireland

Irish Mirror
14/09/2018
Weather experts have warned that incoming Storm Helene may pose a threat to life when it batters Ireland on Monday.
The Met Office in the UK have issued an alert which warns of injuries and danger to life from flying debris – are in force from 6pm on Monday until 12 noon on Tuesday.
Images of Hurricane Florence [GES]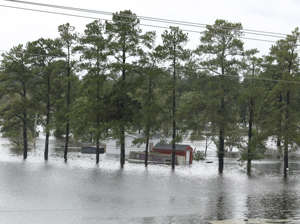 And the deadly storm will hit us before it makes its way across to the UK.
Power cuts, large waves, beach material being thrown onto sea fronts and fallen trees are further predicted hazards.
The current forecast is that Storm Helene will hit the south of Ireland on Monday night.
Met Eireann said: "Current guidance has the low pressure system moving northeastwards up through the Irish Sea overnight Monday and early on Tuesday, although the exact path is still uncertain.
Watch: Hurricane Florence batters the US [Reuters] 
"A humid spell of wet and windy weather is expected to sweep up over Ireland on Monday night and early Tuesday as a result. Current guidance suggests the potential for warning level winds and perhaps rain with the system.
"There remains some uncertainty in the track of the system.
"Met Éireann forecasters will continue to monitor the situation and issue warnings, as required, closer to the time."
Bridges, airports and ferry services in the affected areas face closure if winds grow too violent, while roads and rail routes might also be cut off.
Ireland is expected to endure the worst of the storm, while Wales and the Cornish peninsula will bear its brunt in England.
Download the Microsoft News app for your Android or iPhone device and get news & live updates on the go.