Gardaí uncover first ever 'magic mushroom lab' in Ireland following raid

Independent.ie
12/07/2018
© PA WIRE Garda stock Gardaí have busted what they believe is the first-ever "magic mushroom lab" discovered in the history of the State.
Officers from Sundrive Road Garda Station made the discovery when they raided a property in Drimnagh, south Dublin, on Tuesday evening.
Gardaí were acting on key intelligence when they stormed the property.
There they discovered a huge amount of mushrooms at the unoccupied flat in Davitt House.
© Independent.ie Gardaí forensic team entering doorway through bottom panel The scene was preserved for a major technical examination, which was conducted throughout yesterday by specialist gardaí.
Our exclusive photos show forensic officers at the Drimnagh scene yesterday.
Senior sources said officers expect the services of a specialist environmental company will be required to ensure the dwelling is safe once the technical investigation is complete.
No arrests have been made in the case but the only suspect who has been identified is the resident of the property – a male English national in his 50s who is not known for involvement in drug dealing or organised crime.
In a strange twist, Independent.ie can reveal he was hospitalised a number of weeks ago after suffering a stroke.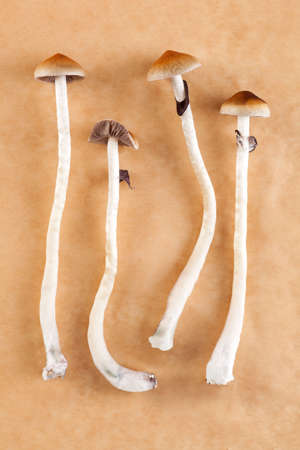 © Catalyst Images Stock photo - Magic mushrooms. Psychedelic psychotherapy, natural depression and addiction medicine. Entheogens. Gardaí have been enquiring with medics whether the eccentric middle-aged man may have suffered the catastrophic health episode after inhaling chemicals or spores.
He has not yet been arrested and is understood to be receiving hospital treatment.
Gardaí are not looking for anyone else in relation to the discovery.
"This is very unusual in relation to a number of factors – one is that it is very difficult to put a value on what has been seized as gardaí have never come across anything like this before," a senior source told Independent.ie.
At the flats complex, gardaí had cordoned off the scene and a number of members of the force's Technical Bureau were assessing the interior of the property.
They were gaining access through a hole in the bottom of the front door where the flat was accessed by forced entry.
The forensic gardaí were wearing protective masks, as well as the white forensic boiler suits. Sources said the interior of the flat was full of "mushroom-type organisms" and was very musty.
© Provided by Irish Independent General view of Gardai forensics exiting doorway Care was being taken due to the possibility of spores in the atmosphere, especially as the heat of the last few weeks had turned the flat into a greenhouse.
Outside the front door, the property was overgrown with non-native plants.
"He grows them for potions and things. He's into witchcraft and all sorts of things," said one local resident.
"We don't know much about him except that he keeps to himself and does nobody any harm."
One resident said the man had worked in the past as a tattoo artist and piercing specialist.
"We heard he had a stroke a few weeks ago and he's been in hospital since. Then, all of a sudden on Tuesday, the gardaí arrived and forced their way in," they said.
"After that, we don't really know what is going on."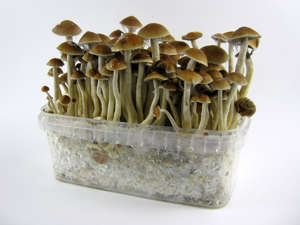 © Catalyst Images Stock photo - Magic mushrooms growing in cultivation. Another neighbour said he thought the man was originally from Yorkshire in England.
It is understood a large quantity of material was expected to be sealed and removed from the flat under controlled conditions for further analysis.
Since February 2006, sale and possession of magic mushrooms has been illegal in Ireland.
One line in the Drimnagh investigation is whether mushrooms were being sold online by the suspect – but there is no evidence yet of this.
Magic mushrooms cause hallucinations and may create a distorted sense of reality, with the user usually being aware that what they are seeing is not real.
Bad trips can occur but do not usually last longer than the effects of the drug.
Effects start about a half an hour after eating the mushrooms and last for three to four hours.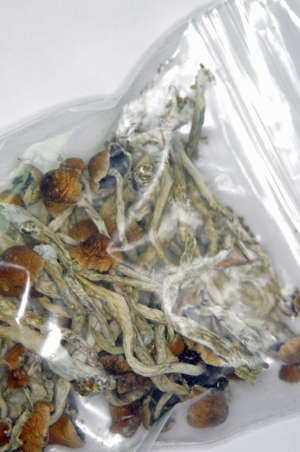 © Catalyst Images Stock photo - A 5g bag of dried shrooms. Side effects can include vomiting and stomach cramps. Panic and anxiety attacks can occur and usually disappear within 12 hours with reassurance.
Users may indulge in rash behaviour such as walking out in traffic or along railway lines, according to health professionals.
Magic mushrooms are a minority drug activity in Ireland, as users need to know what mushrooms to look for.
The Drimnagh magic mushroom bust has happened just six months after officers from the same garda district raided a suspected crystal meth lab, in which officers also struggled to put a monetary value on what they seized in a completely separate operation.
On that occasion, officers from the Crumlin drugs unit raided the lab at the Greenhills Road in Walkinstown and seized at least 15 litres of chemicals which gardaí believe were to be used to mix together to make the deadly drug.