Poll shows Michael D Higgins on course for landslide victory - but Sean Gallagher insists race is not over

Independent.ie
12/10/2018
© Provided by Irish Independent Meet and greet: Michael D Higgins and wife Sabina meet Rosie Valentine and her daughter Lilly, from Templeogue, on Grafton Street. Photo: Steve Humphreys Michael D Higgins is on course to be re-elected as president by a landslide - but fellow candidate Sean Gallagher insists the race is not over.
A new poll shows that not one of the five other contestants in the presidential election has made any inroads into his lead.
The Red C poll for bookmaker Paddy Power puts support for Mr Higgins at 70pc.
Download the Microsoft News app for your Android or iPhone device and get news & live updates on the go.
But Sean Gallagher has insisted the presidential race is far from over. The businessman, who is formally launching his campaign today, polled second on just 14pc.
This will be a huge disappointment for his supporters considering he secured 500,000 votes in the 2011 election.
Voters will go to the polls in exactly two weeks, meaning it will take some dramatic turn of events for Mr Higgins's campaign to be derailed.
Senator Joan Freeman is third on 6pc. Her campaign has centred around the need for more mental health awareness in Ireland.
Surprisingly the Sinn Fein candidate, MEP Laidh Ni Riada, is on just 6pc. This is well below the party's ratings in opinion polls which tends to be in the mid-teens.
The second Dragons' Den businessman in the race, Gavin Duffy, will also be concerned that his message is not resonating. He is on just 4pc.
Finally Peter Casey scored 1pc. He has been he most outspoken critic of Mr Higgins since the campaign started.
The poll found that only 8pc of the people are 'undecided' which is a very small portion of voters at this stage in an election campaign.
At the launch of his campaign in Dublin today, Sean Gallagher said he was proof that campaigns can be turned on their heads at the last minute referring to the polls ahead of the Tweetgate controversy in 2011.
"I am living proof that many unprecedented things can happen. I think campaigns matter and we do have two weeks," he said.
"People are only now beginning in the process of the election itself," adding; "we will have debates and we will have discourse.
"We're just beginning the election proper now, let's see how this one falls between now and election day."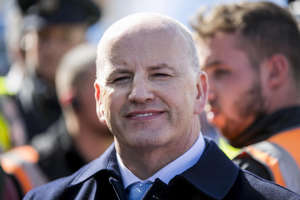 © Getty Irish Presidential candidate Sean Gallagher during the Irish 2018 National Ploughing Championship in Tullamore, Co. Offaly, Ireland. (Photo by Liam McBurney/PA Images via Getty Images) Meanwhile, Mr Gallagher also urged the government to carry out an annual audit of the President's expenditure, while announcing that he made a voluntary disclosure to the Standards in Public Office (SIPO) last week.
Michael D Higgins has faced questions about Aras spending as he campaigns for re-election.
"This is not about politics but doing the right thing because after all the office of the president belongs to the people of Ireland," he said.
Sean Gallagher is formally kicking off his campaign with a pledge to launch 20 initiatives in 20 weeks if elected.
He said he wants to be a president measured not by his words but by his actions and said he will announce the details of those initiatives next Monday.
The former Dragon's Den investor said many will see him as a businessman but said his background is diverse including agriculture and youth work.
He said his campaign has "lead by example" by being carbon neutral.
"I want to use my presidency to empower others to step out and serve their communities," he said.
Mr Gallagher will take questions from the media this morning.
He is the final candidate to formally launch his campaign ahead of the October 26 election. 
The poll also shows support for Fianna Fail has shot up by 5pc - even before Denis Naughten's dramatic resignation. 
Micheal Martin's party are now on 27pc.
This still leaves them trailing Leo Varadkar's Fine Gael though who, despite being down one point, are on 32pc.
Red C sampled 1,000 people at random aged 18 and over by telephone between October 3 and 10. The results were revealed on RTE's Today With Sean O'Rourke programme.