So do you have a €1m lotto ticket in your pocket?

Extra.ie
17/05/2018
A euromillions winner has just days to claim a €1million prize – the 90-day deadline to claim the money is next Thursday.
National lottery chiefs last night urged people to check tickets bought in Cork on February 23 – and they are even sending a team to the city today to help find the winner.
The group will erect posters in and around the Eason store in the Wilton Shopping Centre in Cork city where the Quick Pick was bought.
The winning code on the ticket was I-DKB-06633.
There was big publicity about the win at the time and yet nobody claimed it. That has led lottery chiefs to believe that the winner didn't know the ticket was entered into a European-wide draw that saw 25 €1million prizes handed out across the EU.
Today's publicity campaign will highlight that the Quick Pick ticket was automatically part of the EU draw and that people should recheck any tickets they bought.
'We are convinced it's a local person,' Fran Whearty, National Lottery spokesman, said last night.
'Where it was bought is not the sort of place where you would get much passing trade. It is predominately local people buying their groceries.' He added: 'Some people just play it cool and leave it to the last minute.' Last-minute claims have happened before.
A family syndicate in Midleton, Co. Cork, for example, only realised an hour before their 90th-day 5.30pm deadline, in August 2016, that they had won €200,000.
Related: 20 lottery winners who lost it all [LoveMoney] 
The unclaimed ticket in Cork is one of the highest unclaimed Lotto wins – and is one of three unclaimed prizes by Lotto players in Cork.
The highest unclaimed prize so far is a €2,913,455 November 2014 jackpot ticket bought at Tesco Silverbridge, Knock Road, Claremorris, Co. Mayo.
However, Cork seems to be most prominent among the winners who lost out.
A €1.3million winning ticket bought in a Wilton garage in Cork City in November 2003 went unclaimed, as did a €1million prize ticket bought at the Topaz Service Station Lower Road, Tivoli, Cork in December, 2016.
Meanwhile, UK lottery chiefs are also looking for a mystery millionaire in the North.
The player bought a EuroMillions jackpot ticket on April 27 in a shop in Co. Antrim.
Related: The world's biggest lottery wins [GES]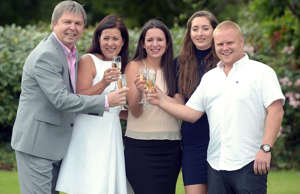 As a result, they were automatically allotted a EuroMillions Millionaire Maker code printed on their ticket, which, in this case, was XJFK 54026. Unlike the player in Cork, however, this winner has until October 24 to claim their prize.
And also unlike the player in Cork, if the Northern winner has lost their ticket, they can still make a claim in writing within 30 days of the draw and win the prize.
South of the border, if the prizes are not claimed within 90 days of the draw date, the money will go to promote the National Lottery.
For more of the most popular News, Sport, Lifestyle & Entertainment on MSN, Follow us on Facebook, and on Twitter