Taoiseach warns colleagues of snap election threat over housing crisis

Independent.ie
14/06/2018
TAOISEACH Leo Varadkar has warned Fine Gael to be on guard for a snap election in the coming weeks if opposition parties move on Housing Minister Eoghan Murphy.
The minister, who took office a year ago today, faced a barrage of criticism in the Dáil yesterday over the mounting problems in the housing sector.
All parties rounded on Mr Murphy for the lack of progress on tackling key issues such as affordable homes, rising rents and homelessness.
As a result, housing dominated a private meeting of Fine Gael TDs and senators last night where most were sympathetic to the minister's efforts.
© Provided by Irish Independent Housing Minister Eoghan Murphy But sources say the growing unease over the housing crisis prompted the Taoiseach to issue a stark warning.
For over a month Sinn Féin has been "considering" a motion of no confidence in Mr Murphy. There are deep suspicions in Government circles that they will place it just before the Dáil is due to take its summer break on July 12.
Mr Varadkar told his party that if this occurs there is a strong likelihood of an immediate election. Under the confidence and supply arrangement, Fianna Fáil is obliged to back any minister in such a vote.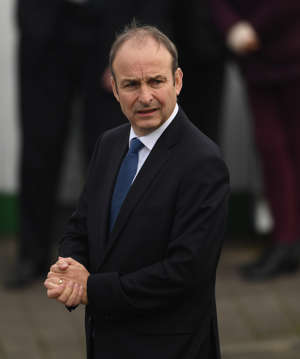 However, Micheál Martin's party is becoming increasingly frustrated by the failure of the Government's 'Rebuilding Ireland' project to make an impact on the crisis.
In the Dáil yesterday, their recently appointed housing spokesman Darragh O'Brien accused Mr Murphy of spreading "absolute fantasy".
"He said that the social and affordable housing supply is being dramatically increased. Is he kidding me?
"We built 396 houses last year and he bought the rest. We are failing on this issue," Mr O'Brien said.
At last night's meeting, Mr Varadkar said that if a Sinn Féin motion were to fail in a Dáil vote, then Fianna Fáil would take "a kicking".
One source told the Irish Independent: "The Taoiseach put us on alert that there are two ways this can go. Either an election or Fianna Fáil gets a kicking."
Earlier this week Sinn Féin paid for a billboard with Mr Murphy's image and a list of the problems in the housing sector to be driven around Dublin city centre.
Mr Murphy sought to defend his record yesterday after People Before Profit placed a Dáil motion seeking new measures to deal with land hoarding and property speculation.
The minister listed what he sees as the progress that has been made in the past year.
Sinn Féin's Eoin Ó Broin, who is threatening the no confidence motion, said he was "running out of adjectives to describe the minister's speeches to the House".
"The gap between what the minister is telling us week in and week out and the reality we are all experiencing in our constituencies is growing ever greater," he said.
For more of the most popular News, Sport, Lifestyle & Entertainment on MSN, Follow us on Facebook, and on Twitter