Hamilton threatens to quit if F1 continues to expand

AS English
08/11/2018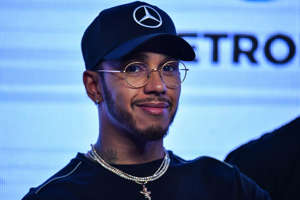 Five-time world champion Lewis Hamilton has threatened to quit Formula One if organisers keep adding races to an already congested calendar.
Hamilton secured his latest drivers' title with a fourth-placed finish in Mexico last time out, the 19th stop of the 2018 campaign.
When it starts to feel real ✋🏾🏆 #LHFive pic.twitter.com/CeiZ3dBM6L

— Lewis Hamilton (@LewisHamilton) October 29, 2018
Brazil and the United Arab Emirates are the final two races of the season, the latter coming on November 25, eight months after the curtain-raiser in Melbourne.
Download the Microsoft News app for your Android or iPhone device and get news & live updates on the go.
The 2019 schedule also has 21 races but will run from mid-March to early December, while owner Liberty Media is keen to add further grands prix.

In 2020, the first Vietnam Grand Prix will take place, while there have been suggestions an extra race in the United States – in Miami – could be added.
It's a fair old wait until April 2020 for the first ever #VietnamGP...

So, to whet your appetite, we've created the opening titles for the race! 📺@TomClarksonF1 has the mic - here's an introduction to Hanoi 🇻🇳 pic.twitter.com/K17oAP9PDf

— Formula 1 (@F1) November 7, 2018
Hamilton is not a fan, though, and has suggested he would leave the sport should further additions be made.
Long F1 season for Hamilton
"I am not going to be here if it gets to 25 races, that's for sure," said the Mercedes ahead of the Brazilian Grand Prix. 
"It already feels like we are on race 25 this year, so I don't think that's a good thing. I think 18 was probably the best back in the day.
Gallery: Hamilton's latest title-winning season (Read Sport)
"I'm someone who really loves racing but the season is long. It's a lot of commitment for all of us and a lot of time away from families, and the seasons are getting longer and the off time is getting shorter.
"All I can do is speak is for myself. The turnaround is so short, you start preparing for your next season often as soon as the season is done. Getting your mind turned. That's very difficult. Then you have to find a way of switching off and recovering at the same time."