John Aldridge: Declan Rice has disrespected the Irish badge - we don't need him

Independent.ie
12/10/2018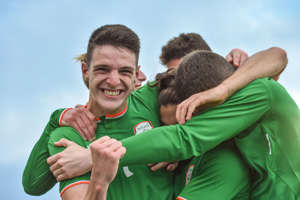 Disclaimer: The opinions expressed in this article are those of our content partner and do not represent the views of Microsoft or MSN
DECLAN Rice has had his head turned by the prospect of playing for England and I feel he has shown disrespect to the Irish badge and the green shirt that meant so much to me by dithering over his international future.
Rice is a good young player and he would be very useful to Ireland if he declared to play for us, but I don't like the way he accepted a call-up to the senior Ireland squad from Martin O'Neill, played three times and declared himself proud to be Irish, only to have second thoughts the minute England came calling.
Download the Microsoft News app for your Android or iPhone device and get news & live updates on the go.
You can't do that. Playing for your country should be the ultimate honour in the game and if you don't feel Irish and fancy your chances of getting into the England side, we don't need you. It's as simple as that.
I was born in England, but when Jack Charlton offered me a chance to play for Ireland, I didn't have to think for a single second about accepting.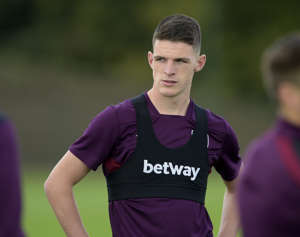 © 2017 West Ham United FC Declan Rice of West Ham United (Photo by Arfa Griffiths/West Ham United via Getty Images) Let's be honest, most people in Liverpool consider themselves to be more Irish than English anyway, so the prospect of playing for Ireland possibly even beating England - as we did at the 1988 European Championships - was a massive motivation for me.
In fact, the few times we played against England were the games I wanted to win more than any other and that is what national pride and playing on the international stage should be all about.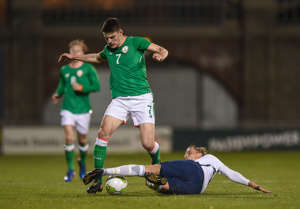 Your decision shouldn't come down to which country might be playing better that year or whether you might get a better boot deal if you play for England rather than Ireland. This should be a decision from the heart and that's why I think Rice has got it wrong.
Watch: Martin O'Neill says Harry Arter and Roy Keane have settled their differences [Sky Sports] 
Even if he comes back to play for Ireland now, he has spent the last few weeks 'thinking' about what country he wants to represent and that does not sit well with me. I also think Harry Arter made a mistake when he turned down an Ireland call-up last month after his row with Roy Keane and once again, I would question why he would make that decision.
Roy was a bit over the top in what he said to him and that will not work in the modern world anyway, but Arter is born in England and maybe playing for Ireland is not such a big deal to him.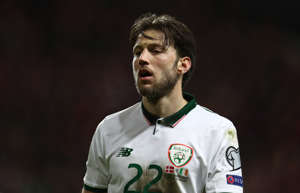 At least he is back now and while I don't think he is a great player by any means, he needs to go out and prove a few of us wrong when he play Denmark at the Aviva Stadium on Saturday.
I saw quotes from Ireland manager Martin O'Neill suggesting he would prefer not to use the 'granny rule' and select only homegrown players for his squad and while that is a nice plan in theory, we are not in a position right now to turn away players.
If you qualify for Ireland and you have a passion to play for the country, then there is no reason why you cannot go on to enjoy a wonderful international career.
So many members of the Ireland team I was a part of were not born and bred in Ireland, but the desire and patriotism we had to play for our national team was one of the big driving factors in why we were so successful.
© SPORTSFILE Declan Rice of Republic of Ireland celebrates with his team-mates after Reece Grego-Cox's hatrick against Israel during the UEFA European U21 Championship Qualifier match between Republic of Ireland and Israel at Tallaght Stadium in Dublin. (Photo By Matt Browne/Sportsfile via Getty Images) Maybe the rule should be changed so that once you play international football, you are committed to that nation for the rest of your career, never mind whether it is a friendly game or a competitive international.
That would ensure we don't have any more Declan Rice issues cropping up in the future.
NOW READ:
Martin O'Neill hits out at Alan Shearer over Cyrus Christie criticism (Independent.ie)
Shane Duffy:There were low days... You're thinking: "Are you good enough?" (The Journal)