Liverpool results key for Jurgen Klopp: 'We are not the Harlem Globetrotters!'

Evening Standard
12/01/2019
(Video provided by Sky Sports)
Jurgen Klopp hailed Liverpool's resolve as the Premier League leaders secured an important 1-0 win at Brighton despite a below-par performance on the south coast.
Klopp's side did not manage a shot on target in the first half, but were ahead early in the second after Pascal Gross fouled Mohamed Salah in the area and the Egyptian fired in the spot-kick.
Victory extended Liverpool's advantage at the summit to seven points ahead of third-placed Tottenham's match with Manchester United on Sunday and second-placed Manchester City's meeting with Wolves on Monday.
Liverpool have been praised for their attacking play this season, but Klopp believes it is games such as Saturday's the the table-toppers are proving the difference between themselves and the rest of the chasing pack.
Download the Microsoft News app for your Android or iPhone device and get news & live updates on the go.
Speaking about the result in relation to the performance, Klopp told reporters: "I take these questions in the beginning of the season pretty often. When we started and we had results and people thought the difference between the City or Rome home game in the Champions League last year was too big.
"It's absolutely OK. We are not the Harlem Globetrotters, we have to deliver results. It's difficult enough. For that we need to perform. The performance was good.
"It was not the best performance of the season in a few parts. But from a maturity point of view, I would say it was the most mature performance of the season. It's so important.
© Provided by Local News RSS EN-GB (PA) "On a good day, everybody can win a football games. On an average day, not a lot of football teams can win football games. On a bad day, pretty much only a few teams can win football games.
"Today was not a bad day, it was a difficult day for us. It was just a difficult game because Brighton is doing really well. We played a lot of times against a 4-5-1 system, but how they do it is different. I'm really happy that the boys took the game like it is."
Klopp admitted that Liverpool were unlikely to wrack up a high score against Brighton considering the Seagulls' tactics of sitting deep, saying: "I think it was clear today was not a day for a massive result.
"So Brighton didn't change a lot because we were so dominant. It's not that Brighton opened up completely and said: 'From now on, we try to attack everything and we can have more space'.
"They defended like they defended because they knew one mistake from us and they are back in the game. Not making mistakes is a difficult thing in football - it's actually impossible - but don't make decisive mistakes should be possible. We won it and I'm absolutely happy about that."
© Provided by Independent Digital News & Media Limited (REUTERS) The win marked Liverpool's first victory of 2019 after losing in the League 2-1 at Man City before Wolves knocked them out of the FA Cup.
Despite those setbacks, Klopp insisted that his players were not concerned about a potential slump, adding: "Not because of Man City, it's just important [to respond].
"If you fall from the horse, the best thing you can do is go immediately back on it. Do you use that saying in English as well? That's how it is. It's cool, it's good and important.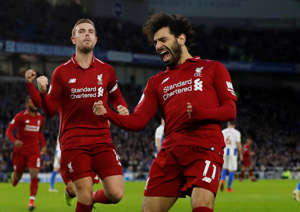 © Thomson Reuters Soccer Football - Premier League - Brighton & Hove Albion v Liverpool - The American Express Community Stadium, Brighton, Britain - January 12, 2019 Liverpool's Mohamed Salah celebrates scoring their first goal with Jordan Henderson Action Images via Reuters/Paul Childs EDITORIAL USE ONLY. No use with unauthorized audio, video, data, fixture lists, club/league logos or "live" services. Online in-match use limited to 75 images, no video emulation. No use in betting, games or single club/league/player publications. Please contact your account representative for further details. TPX IMAGES OF THE DAY "We didn't make a big fuss about the two defeats, to be honest. We never speak about the games before really. We knew that it's really difficult to take all three points here.

"I'm really happy, even with the way we did it. You have to score early and keep the momentum going. The scoring momentum we didn't have today.
"Creating was OK, but finishing was not at our best. All the rest - defending and all that stuff - was really good, so we deserved the three points."