Liverpool star Mohamed Salah has his boots added to Egyptian collection at British Museum to commemorate winning Premier League Golden Boot

Daily Mail
17/05/2018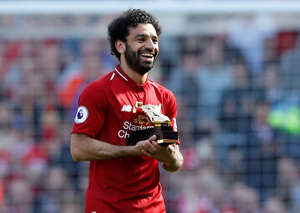 © Catalyst Images Soccer Football - Premier League - Liverpool vs Brighton & Hove Albion - Anfield, Liverpool, Britain - May 13, 2018 Liverpool's Mohamed Salah celebrates with the Golden Boot after the match Action Images via Reuters/Carl Recine EDITORIAL USE ONLY. No use with unauthorized audio, video, data, fixture lists, club/league logos or "live" services. Online in-match use limited to 75 images, no video emulation. No use in betting, games or single club/league/player publications. Please contact your account representative for further details. Mohamed Salah's boots will be displayed 'amidst the statues of ancient pharaohs' at the Egyptian collection in the world-famous British Museum.

The Liverpool star's adidas X17 Deadly Strike boots have been donated to the London museum and will go on display in gallery 61 next week in the run-up to the Champions League final. 
The decision to place the boots, which will join 5,000-year-old sand-dried mummy, wall paintings from the tomb of Nabamun and sculptures of Rameses the Great in the collection, was taken to commemorate the Egyptian winning the Premier League Golden Boot Award. 
Salah had already achieved national treasure status in his home country of Egypt by securing their qualification to this year's World Cup but has now earned even wider recognition after his stunning 44-goal debut season for Liverpool.
His boots will be displayed next to footwear from ancient Egypt and adjacent to a selection of gold pharaonic jewellery in what is one of the biggest collection of Egyptian objects outside of the country.
The collection also includes the Rosetta Stone, an ancient decree issued during the Ptolemaic dynasty in 196BC. 
Egyptian Collection at the British Museum
Mummy of Ginger, from Gebelin (3,400 BC)
Flint Knife with an ivory handle, Sheikh Hamada (3,100BC)
Casting stones from the Great Pyramid of Giza (2,650 BC)
Wooden tomb statue of Tjeti, Fifth-Sixth Dynasty (2,345-2,181 BC)
Limestone bust of Amenhotep (1,350 BC)
List of the Kings of Egypt from Temple of Ramesses II (1,250 BC)
The Rosetta Stone (196 BC)
Mummy of Hornedjitef (300 BC)
Coffin of lid of Soter and Cleopatra from Thebes (2nd century AD)
Mohamed Salah's boots (2018)
Neal Spencer, Keeper of Ancient Egypt and Sudan said: 'This acquisition brings the British Museum's world-famous Egyptian collection right up to date.
'The boots tell a story of a modern Egyptian icon, performing in the UK, with a truly global impact.
'Displayed amidst the statues of ancient pharaohs, we now show the boots with which Mo Salah won the Golden Boot for Liverpool.
© Provided by Associated Newspapers Limited They will go on display in gallery 61 next week in the run-up to the Champions League final

'Salah will shortly lead his national team, known as The Pharaohs, to the World Cup Finals. This acquisition builds on our recent project to acquire objects to tell the story of day-to-day life in 20th and 21st century Egypt.
'From sport, to entertainment, worldwide trade to design, this collection is now accessible to all - like those from other periods of Egypt's rich history.' 
Salah has made a huge impact since joining Liverpool from Roma last summer, breaking the goal record for a 38-game Premier League season with a haul of 32 goals.
He has also enjoyed a prolific campaign in Europe - with 10 goals - and will try to help Liverpool capture their sixth Champions League crown later this month when they face Real Madrid before leading his country out in Russia at the World Cup.
The Liverpool star has had a sensational season and was described as a 'modern Egyptian icon'