Mission Impossible 6: Early Fallout reactions praise sequel that 'raises the bar'

The Independent
10/07/2018
(Provider: My Movies)
The first reactions have landed.
Over five films, the franchise - an adaptation of the beloved espionage TV series - has embedded itself as one of the most bankable and dependable cinema fixtures since Brian De Palma's original was released in 1996.
© Shutterstock In fact, it's hard to recall a film series in which each entry has been just as well reviewed as the last. The previous two releases, Ghost Protocol and Rogue Nation, even went on to become the highest-grossing of them all.

© Shutterstock It seems Tom Cruise and director Christopher McQuarrie have struck gold again with Fallout. The early critical buzz is extremely positive with many praising it as the best blockbuster of the summer. To top it off, it's being projected for a $60m (£45.3m) opening weekend - it's highest yet. 

© Shutterstock You can see a selection of social media reactions below.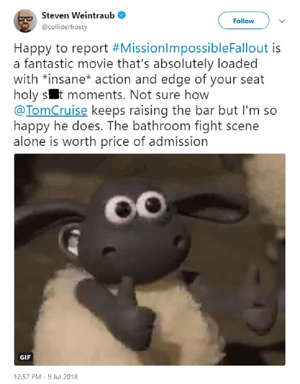 Just walked out of #MissionImpossibleFallout, which is absolutely fantastic. This movie entertains you in every which way - incredible action sequences, nail-biting suspense & hands down the series best finale yet. My favorite movie of the summer right there - loved every second pic.twitter.com/hWUnI7P2jQ

— ErikDavis (@ErikDavis) July 9, 2018
Without giving away tio much #MissionImpossibleFallout has strong India connect. Saw the film last night in #Paris. #TomCruise and #HenryCavill feature in some of the most thrilling action sequences.

— bedika (@rbedika) July 10, 2018
© Provided by Independent Digital News & Media Limited

Joining Cruise for the sequel are Rebecca Ferguson, Henry Cavill, Vanessa Kirby and Simon Pegg. The film will be released on 25 July.
Related: 20 sequels and prequels that were better than the original (Provider: Yardbarker)