'The big European games here are special, there's something about them'

Journal.ie
12/07/2018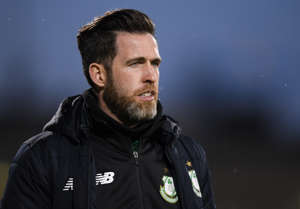 SHAMROCK ROVERS BOSS Stephen Bradley says his side have done their homework ahead of tonight's Europa League qualifying first leg against AIK at Tallaght Stadium.
The Stockholm club have a decent European pedigree, reaching the quarter-finals of the Cup Winners' Cup in the 1996-97 campaign, while they also reached the group stage of the 1999-2000 Champions League as well as the same point in the Europa League in the 2012-13 season.
Rikard Norling's men finished second, just seven points behind champions Malmo, in the 2017 Allsvenskan, while they currently are top of this season's table.
Ahead of the second leg at the Friends Arena, which has a capacity of 50,000, AIK will be hoping to secure a positive result in Dublin this evening.
Bradley, meanwhile, indicated he had yet to settle on a formation for the match, with three or four at the back both options being considered.
"We know a good bit about AIK, we've done our homework on them. We've had a lot of reports and had them watched. Stephen McPhail was over there at the weekend as well. We know it's going to be a tough game for us but it's one we're looking forward to.
"I 100% believe we can cause them problems and the group believe that. We've watched them play, we've watched the videos and we know we can cause them issues. But we also understand that they're a really good side.
"[The pre-season friendlies against Swedish teams] helped us understand their mentality and how they work, and also the tactical aspect of how they play, although they have a different system to the likes of Hammarby. It'll definitely help us.
"We need to be solid for the two legs and make sure we're concentrated from the first minute to the last, because they have good attacking players. So we need to be switched on but going the other way, we need to believe in ourselves and have a right go.
"The big European games here are special, there's something about them. We'll get a great crowd and I believe they've sold out the away end too so it's going to be a great atmosphere."
Brandon Miele and Sean Boyd have both been ruled out with knocks, though 16-year-old goalkeeper Gavin Bazunu could feature again, after his outstanding penalty save in the 0-0 draw with Cork on Friday.
It was an unbelievable save [by Gavin Bazunu from the penalty]. It's no surprise, because he did his homework on penalties on the bus on the way down, so he expected it. I thought throughout the game he had one little blip but overall he was outstanding. But Gavin just gets on with it, he doesn't buy into anything or get carried away. He wants to be a footballer and the best he can be. He keeps his head down and works hard and that's the most pleasing part about the whole thing.
"I think Gavin and Alan [Mannus] know there's a fight for the jersey and that's going to remain the case for the rest of the season.
"We've been excellent as of late, we've lost one in nine. The lads have worked really hard and they're playing well and keeping clean sheets. We'll need all that tomorrow because we're up against a really good side."