Zuckerberg's Change of Heart Just Cost Facebook CEO $2.9 Billion

Bloomberg
12/01/2018
(Bloomberg) -- Mark Zuckerberg's latest Facebook post is proving expensive.
The co-founder of the world's largest social-media business saw his fortune fall $2.9 billion Friday after he posted plans to shift users' news feeds toward content from family and friends at the expense of material from media outlets and businesses.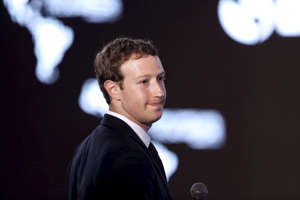 © REUTERS/Carlos Garcia Rawlins Facebook CEO Mark Zuckerberg asks a question during the II CEO Summit of the Americas on the sidelines of the VII Summit of the Americas in Panama City April 10, 2015 Shares of Menlo Park, California-based Facebook tumbled 3.9 percent at noon in New York, cutting Zuckerberg's fortune to $74.4 billion on the Bloomberg Billionaires Index. If that decline holds through the close of trading, he will lose his place as the world's fourth-richest person to Spanish retail billionaire Amancio Ortega.
The drop wipes out much of the $4.5 billion Zuckerberg, 33, has added so far this year. The world's 500 richest people gained $1 trillion in 2017 and an additional $17 billion in the first two weeks of 2018, according to the Bloomberg index.
For more of the most popular News, Sport, Lifestyle & Entertainment on MSN, Follow us on Facebook, and on Twitter