Meghan Markle and Prince Harry touch down in Dublin for first official overseas tour as married couple

Evening Standard
11/07/2018
(Video provided by PA)
Meghan Markle and Prince Harry have touched down in Dublin for their first official overseas tour as a married couple.
The Duchess of Sussex paid tribute to her Irish hosts with an emerald green stylish Givenchy outfit as the couple's much anticipated two-day trip began.
The husband and wife touched down in a private chartered jet at Dublin Airport on Tuesday afternoon after a busy morning at the RAF centenary celebrations in London.
Waiting to greet them at the bottom of the plane's steps was Britain's Ambassador to Ireland, Robin Barnett, his partner Agnieszka Kepka and senior officials from the British embassy.
Harry and Meghan looked relaxed as they made their way down the steps and shook the hands of the waiting officials in turn, before being led to their car at the head of a motorcade.
Nearby nine Garda motorbike outriders were waiting to escort the couple to a meeting with Ireland's Taoiseach Leo Varadkar, who will formally welcome the couple to his country.
As their car pulled away Harry, looking smart in a suit, shirt and tie, smiled at the ranks of journalists, photographers and cameramen capturing the moment, and waved at them.
The trip to Dublin is not the first time the duke and duchess have been away since their May 19 wedding, which fused tradition with modernity and diversity.
Harry and Meghan slipped away unnoticed for their honeymoon and the destination for the traditional break has remained under wraps for now.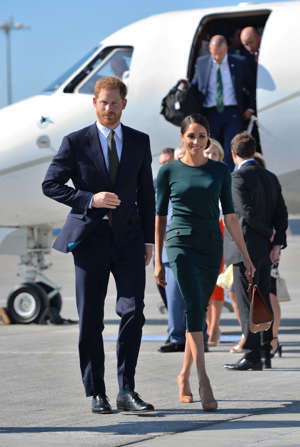 The airport greeting marked the start of the duke and duchess's whirlwind tour that will see them celebrate Ireland and its people.