British former Rolls-Royce engineer, 73, is arrested under the Official Secrets Act after 'Chinese plot to steal secrets of RAF's £100m F-35B stealth fighter jet'

Daily Mail
14/06/2018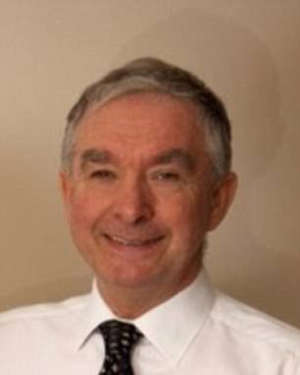 A former Rolls-Royce engineer has been arrested in connection with a suspected Chinese plot to steal the secrets of the new £100million RAF stealth fighter jet, it was claimed last night.
Ex-Chief Combustion Technologist Bryn Jones was held after MI5 was informed classified defence information may have been passed to Beijing.
Counter-terror police swooped in on the 73-year-old's Derbyshire home in an 'ultra-discreet' operation on Tuesday.
Related: Advanced F-35 stealth fighter jets land in UK air base (Provided by Reuters)
Mr Jones was questioned and held on suspicion of breaching the Official Secrets Act, according to The Sun.
Crimes relating to national security can carry a maximum sentence of 14 years.
Mr Jones, a married father-of-five, describes himself as a 'visiting professor' in 'gas turbine combustion' at the Aeronautical University of Xian, central China.
It is understood the Met probe centres on fears over Rolls-Royce's top-secret work on the state-of-the-art F-35B.
And offices at a West Midlands firm linked to Mr Jones were also searched by forensics.
It is understood that he denies any wrongdoing.
The F-35B only arrived in the UK last week and Air Chief Marshal Sir Stephen Hillier described it as 'the most advanced and dynamic fight jet' in British history.
With a top speed of 1.6 Mach (1,200mph) and a 300-mile range, the aircraft can deflect enemy radar almost unnoticed.
Built in the US by defence giants Lockheed Martin, its weapons include air-to-air missiles and laser-guided bombs.
The UK government has already committed to spend £9.1billion on 48 of the aircraft by 2025.
But now there are grave concerns the aircraft's secrets are already in the hands of foreign powers.
A source told The Sun: 'China and Russia are determined to steal state secrets by any means. Any arrest of this type is highly significant.' 
Mr Jones, who has been married to his wife Dorothy for 49 years, studied mechanical engineering at Manchester University after leaving grammar school in the Sixties.
He took on a job in Rolls-Royce's combustion engineering section after graduating and worked there for 28 years.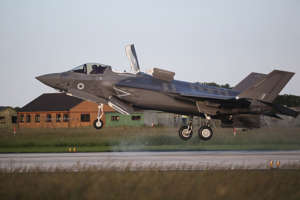 In 1996 he was named Chief of Combustion Technology Acquisition, where his role involved 'assessing military and civil product needs'.
Four years later he landed the top post of chief combustion technologist.
Mr Jones is thought to have left Rolls-Royce in 2003 and launched a consultancy firm.
But he is believed to have retained links with his former company.
In 2013, Mr Jones won a prize for a 'lifelong contribution' to his field from the Institute of Physics.
Mr Jones would have been required to sign the Official Secrets Act due to the sensitivity of his work with Rolls-Royce.
Plain-clothed police officers were still present at the Jones' home yesterday.
F-35 FACT SHEET 
Role: Stealth multirole fighter
First flight: December 15, 2006
Unit cost (not including engine):
F-35A - $98million
F-35B - $104million
F-35C - $116million
Number built: 115 (as of November 2014)
Length: 15.67m
Wingspan: 10.7m
Height: 4.33m
Max speed (F-35A): 1,930kph 
Neighbours of the couple yesterday described them as 'private'.
The Sun understands electronic equipment including computers and USB drives were among the items seized.
A Met Police spokesman said: 'At approximately 14.20hrs on Tuesday, 12 June 2018, officers from the Metropolitan Police Service arrested a man in Derbyshire as part of an investigation under the Official Secrets Act.
'The man, who is in his 70s and worked within private industry, was taken to a police station in Derbyshire.
'He was released under investigation later that evening.
'Police officers executed a search warrant at an address in the West Midlands, which is now complete.
'A search at an address in Derbyshire is ongoing.' 
Last night a Home Office spokesperson said they would not comment on an ongoing investigation. 
A special message from MSN:

Nine million people across all age groups and walks of life in Britain are affected by loneliness. We've partnered with giving platform Benevity to raise funds for three charities - Mind, the Campaign to End Loneliness, and Wavelength – to tackle this debilitating and complex issue. You can help make a difference - please donate now.