One dead in Melbourne knife rampage terror attack

Sky News
09/11/2018
A man killed one person and wounded two in a knife rampage in Melbourne that police are treating as a terror attack.
Speaking at a news conference, Chief Commissioner Graham Ashton said that the suspect had "family associations that were well known" to police and that he had been known to Australia's security agency.
The man, who has not been identified, was originally from Somalia but lived in Melbourne's northwest.
Download the Microsoft News app for your Android or iPhone device and get news & live updates on the go.
He was shot by police and died shortly after arriving at hospital under police guard.
Witnesses said the man had parked a vehicle on Bourke Street, a busy shopping area in Australia's second-largest city, before setting it alight.
The car was laden with gas cylinders, police said.
© Getty Emergency services are seen in Bourke St on November 09, 2018 in Melbourne, Australia Police had been called to the car at 4.20pm Friday, local time, by which time the man had already started attacking bystanders.
Earlier, Superintendent David Clayton had said investigators were "keeping an open mind" about motive.
He said that when police arrived, they were "confronted by a male brandishing a knife and threatening them".
© Rex Features A man armed with a knife attacked several people on Bourke Street in Melbourne "At the same time passers-by were calling out that members of the public had been stabbed," he added.
Two people, apparently members of the public, came to the aid of police, one using a shopping trolley and another using a chair to try and stop the attacker.
Social media footage showed the attacker trying several times to stab one of the officers before a second officer drew his gun and a single shot could be heard.
Mr Clayton confirmed three people had been stabbed, one of them had died at the scene.
© Getty A burnt out vehicle is seen in Bourke St on November 09, 2018 in Melbourne, Australia The two other victims were in hospital, with local newspaper The Age reporting that one has a head injury and the other a neck injury.
The street was closed off and shops, including two large department stores, were evacuated.
NOW READ:
Strong winds set to batter the country (Irish Mirror)
The girl who murdered her mother so she 'could live a normal life' (Good Housekeeping )
More from Sky News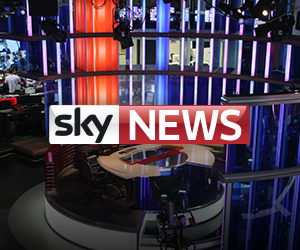 Sky News