Russia says US is trying to 'squeeze out' competitors in the global arms trade

The Independent
21/09/2018
© Provided by Independent Digital News & Media Limited Moscow has accused the US of trying to "squeeze out" competitors in the global arms trade, after Washington imposed sanctions on China for buying Russian fighter jets.

The US on Thursday blacklisted 33 Russian nationals and three entities in a new round of sanctions over Russia's interference in the 2016 election. One of the companies was an aircraft-making factory in Russia's Far East.
Video: Putin attends Russia's Vostok 2018 war games (Al Jazeera)
At the same time, Washington announced sanctions against China's military for its purchase of Russian planes and missile systems. It said in doing so, China had breached a wide-ranging sanctions law designed to punish Russia for its alleged election interference, something Moscow has repeatedly denied.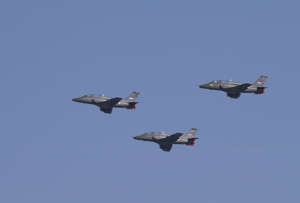 © Associated Press Serbian Army Super Galeb-4 (Super Seagull-4), multi-purpose jets perform during ceremony in Batajnica, military airport near Belgrade, Friday, Oct. 20, 2017. Russia has formally handed over six MiG-29 fighter jets to Serbia, part of an arms delivery that could worsen tensions in the war-weary Balkans. (AP Photo/Darko Vojinovic) The penalties were applied under a law that requires the US to sanction anyone undertaking significant transactions with people affiliated with Russian intelligence and military services, including arms manufacturers. Secretary of State Mike Pompeo also expanded that blacklist Thursday, adding the names of 33 Russians to bring the total roster to 72 people, CNN reported. 

"Today's actions are not intended to undermine the military capabilities or combat readiness of any country, but rather to impose costs on Russia in response to its interference in the United States election process, its unacceptable behaviour in eastern Ukraine, and other malign activities," the state department said in a statement.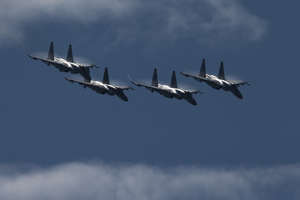 © Associated Press Su-35 jets of aerobatics team Russkiye Sokoly, or Russian Falcons, perform during the MAKS-2017 International Aviation and Space Show in Zhukovsky, outside Moscow, Russia, Friday, July 21, 2017. (AP Photo/Alexander Zemlianichenko Jr) Paul Ryan advocates sanctions on Russia: It is a 'menacing government'

Mr Pompeo, in consultation with treasury secretary Stephen Mnuchin, imposed sanctions on the Chinese military's equipment development department and its director, Li Shangfu, for purchasing Su-35 combat aircraft and a S-400 surface-to-air missile system.

"The ultimate target of these sanctions is Russia," a senior Trump administration official told journalists.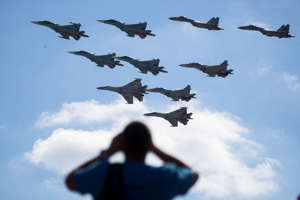 On Friday, Russia hit back, with Kremlin spokesman Dmitry Peskov accusing the US of trying to squeeze out competitors in the global arms trade.
Reuters said Mr Peskov called the new sanctions hostile and unpredictable, but did not say how Russia would respond. "They use this practice so often that one would trip up reacting to each new instance," he said.