England 1 Croatia 2: World Cup semi-final heartbreak for England as Mario Mandzukic scores extra-time winner

Evening Standard
11/07/2018
England suffered semi-final heartbreak at the World Cup yet again as Mario Mandzukic's extra time winner crushed the dreams of a nation.
Their bid to get to a first Final since 1966 couldn't have got off to a better start as Trippier, arguably the best right back at the tournament, curled a brilliant free kick into the top corner inside five minutes.
England were made to regret missing some golden chances to build on their lead though as Croatia came on strong in the second half and extra time.
Related: For all the latest analysis and insight, visit our World Cup hub HERE
The momentum swung Croatia's way, led superbly by Luka Modric yet again, following Ivan Perisic's equaliser and Mandzukic took advantage of England's tired legs to drill home in the 109th minute.
Just like 1990, it was a case of so near and yet so far, but Gareth Southgate's squad will still be greeted as heroes when they return to the country after the third-placed play-off on Saturday.
For the third straight game, Southgate decided to make no changes. It didn't come as an enormous surprise given the first XI were fully fit and have been doing so well up to now.
In pictures: Extra-time goal brings heartbreak to England (Photo Services)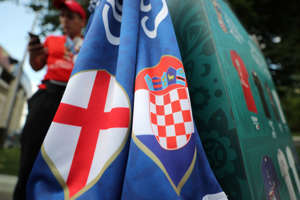 England have had their fair share of history against Croatia. There was the misery of losing 3-2 in the Wembley rain in 2007 which ensured they failed to qualify for Euro 2008.
The manager that night, Steve McLaren, was known as the 'wally with the brolly' from then on by England fans.
There was no danger of Southgate having an unflattering nickname following his heroics out here in Russia.
The question was could England put in the kind of dominant display they managed against the same opposition during World Cup qualifying in 2008-9, when they secured a 4-1 and 5-1 triumph.
Naturally, the tension of a major semi-final was unlikely to lead to such a rout, but the Three Lions' certainly had enough chances to book their place in the final by half-time.
After Trippier gave them such a stunning opening, England looked dangerous every time they want on the attack.
How's that for your first #ThreeLions goal, @trippier2? 😮pic.twitter.com/J0D8yiwDe4

— England (@England) July 11, 2018
The stunned Croatia backline breathed a sigh of relief as Harry Maguire headed Trippier's corner wide.
Then at the half hour mark Jesse Lingard played top scorer Harry Kane in on goal. His first shot was blocked by keeper Danijel Subasic and Croatia's goalie then deflected the rebound from close range off the post.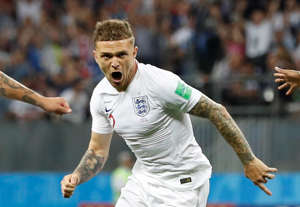 As the ball deflected to safety, one of the assistant referee's raised his flag for offside, but surely VAR would have reviewed it because Kane was level with the last man.
Six minutes later, it was Lingard's turn. Dele Alli picked him out unmarked on the edge of the area, but the Manchester United attacking midfielder curled the ball wide.
Croatia had asked few questions of England keeper Jordan Pickford, although there was some last ditch interventions from Kyle Walker, John Stones and Maguire to keep the lead.
Zlatko Dalic's side had far more of the possession after the restart as England appeared to set their stall out to protect what they had.
Yet every time Croatia approached the area menacingly, a man in white stuck out a leg or a head to clear.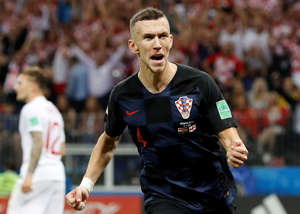 It was a rather sensitive part of Walker's anatomy that got in the way of Ivan Perisic's shot.
England still looked capable of getting a second on the rare times they ventured across the halfway line. A Lingard strike deflected over and Dejan Lovren cleared brilliantly in front of Kane.
When the equaliser arrived, it came out of nothing. Sime Vrsaljko's cross floated to the back post, but Perisic was quickest to react running past Walker and Trippier to steer home.
There was a question over how high his foot was raised in relation to Walker's head, but the goal was allowed to stand.
England looked rattled at seeing the lead evaporate and their opponents sensed it, launching wave after wave of attacks.
The composure Southgate's team had played with deserted them as they failed to clear a hopeful punt up field. Again the ball landed at the feet of Persic, luckily his drive came off the post and Ante Rebic chipped the rebound straight into the grateful arms of Pickford.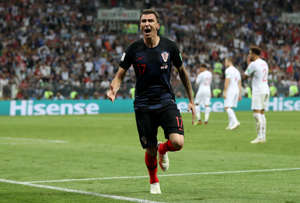 Somehow, England survived to take it into extra time, the third successive time in the knock-out stages that Croatia failed to win in the 90 minutes.
The stoppage gave Southgate crucial seconds to lift his players and they responded. The introduction of fresh legs from the bench of Danny Rose and Eric Dier - Marcus Rashford had already replaced Sterling - made a difference too.
And it was so close to more set piece glory again as Stones' header from Trippier's corner was cleared off the line by Vrsaljko.
But back came Croatia - Persic's fine ball found Mandzukic six yards out, but Pickford came to the rescue.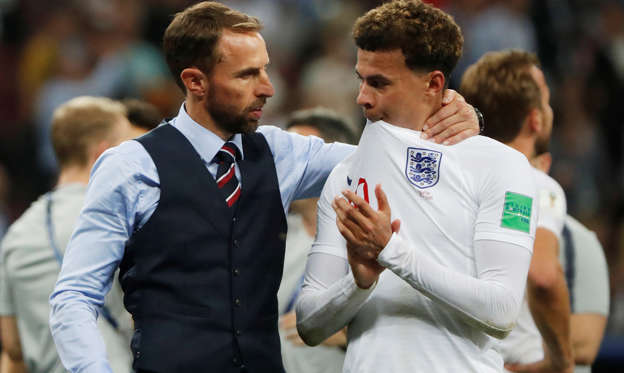 Gareth Southgate consoles Dele Alli after the match
© REUTERS/Grigory Dukor
There was nothing the Everton man could do when a ball was headed hopefully back into the area and it fell perfectly to Mandzukic to fire a shot into the bottom corner.
It was a blow that could take a while to get over, but there will be hope it won't take another 28 years to get to this level again.
Fixtures, results, player profiles and more: Find everything you need to know about the World Cup on Bing