New Real Madrid manager Lopetegui leaves Spain on eve of World Cup kick-off

Goal.com
13/06/2018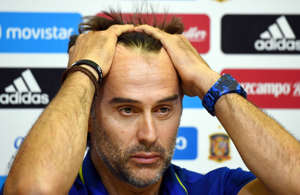 Julen Lopetegui has been sacked as manager of Spain, after taking the Real Madrid job on Tuesday.
Lopetegui was announced as Zinedine Zidane's successor earlier this week in a move that surprised many.
The announcement initially claimed that the 51-year-old would take the reins at Santiago Bernabeu after the conclusion of the tournament, but La Roja have acted now.
Watch: Bolt giving his backing to Argentina at World Cup (Perform)
"We have to decided to fire the national coach," Spanish Football Federation president, Luis Rubiales, said. "What we have achieved in getting here is due in great part to him, and we must thank him and wish him luck."
MSN has launched a campaign to tackle loneliness, which affects 9 million across all age groups and walks of life in the UK. Discover more on this 'silent epidemic': Please donate now
Rubiales insists he does not feel undermined, but has suggested that Real acted in a manner unbecoming of their status.
"I don't feel betrayed. Lopetegui has done impeccable work. How all this has been done is something else.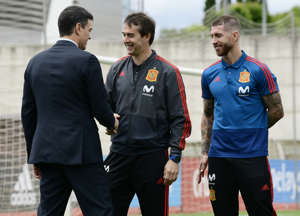 "I have spoken with the players and I can guarantee they will do everything, along with the new coach, to take the team as far as possible.
"Real Madrid look for the best coach, that is fine by me. I have no opinion about how Real Madrid act. But the federation have an obligation, to represent all Spaniards.
"To win is very important, to have the best coach very important, but above everything is acting in the right way. Maybe this is tough now, but in the end it will make us stronger."
Lopetegui was unbeaten in his time in the Spain dugout, guiding his team to 14 wins and six draws from 20 matches.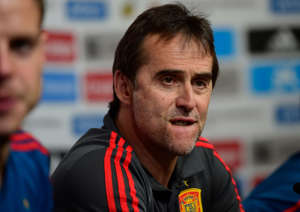 The stunning development threatens to destabilise a team regarded as one of the favourites to win the tournament in Russia.
Spain face Portugal on Friday, and will also face Iran and Morocco in Group B.
Rubiales has not revealed who will be in charge for La Roja's opening game of the tournament, but insists that an announcement will be made in due course.
"We are going to touch as little as possible," he said. "We are working on it. When we know we will tell you."
It has been reported that several Spain players were keen for Lopetegui to stay on throughout the tournament, but that Rubiales was keen to act after finding out of the manager's agreement with Real Madrid mere minutes before the announcement was made.
Gallery: Julen Lopetegui and other cases of World Cup self-sabotage (Grid)
MSN Loneliness Campaign: Who's affected and how is loneliness being tackled? Discover more and please donate now