Report: Cardinals General Manager Steve Keim Lied About Identity During DUI Stop

Sports Illustrated
11/07/2018
© Christian Petersen/Getty Images Cardinals general manager Steve Keim originally identified himself as the team's director of security when he was cited for driving under the influence on July 4 in Chandler, Arizona, reports The Arizona Republic. 
According to a police report obtained by the Republic, Keim has a "slight slur" and his breath smelled of alcohol when he was pulled over just a few properties from his home. He claimed to have had two beers and pizza an hour or two before being stopped, according to the report. He declined to perform several steps in a sobriety test and did not submit to a breath test so officers took vials of his blood to be tested instead.
At the police station, Keim said he was drinking since 4 p.m. Police noticed Keim driving fast around 12:12 a.m. according to the report.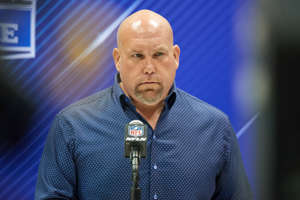 Keim was previously convicted of DUI in 1996, according to the report.
Following the news, the Cardinals and Keim released statements.
Keim has been the team's general manager since 2013, but he's been working with the team since 1999. He recently signed an extension through 2022.