A decade too late, English rugby is finally waking up to the genius of Danny Cipriani

The Independent
09/09/2018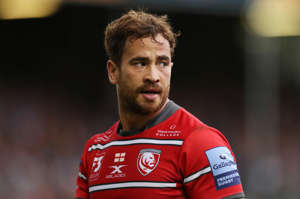 Eddie Jones had left his seat by the time Danny Cipriani produced his latest piece of magic in a season which may only be two games old but is already shaping up to be a very special one for English rugby's errant son.
Perhaps the England coach had seen enough. Because from start to finish at the Recreation Ground on Saturday the Gloucester fly-half was a cut above anything else on show and his second man-of-the-match award in two appearances for his new club was 100 per cent justified.
Why oh why did Wasps let him go?
The calm and grace with which he delivered a floated pass over the top of Bath's rushing defence in the dying seconds, allowing returning hero Matt Banahan to score in the right corner and Billy Twelvetrees to draw level a captivating game with the late conversion, epitomised calm under pressure.
Earlier, the 30-year-old had made a superb try-saving tackle on the hulking Joe Cokanasiga as Bath were threatening to overrun Gloucester after overhauling a Cipriani-inspired 21-0 deficit before half time.
Video: 'Cipriani has an England future' (Sky Sports)
Both Ruan Ackermann's first-half tries came as the direct result of Cipriani brilliance; the first following a brilliantly executed kick, chase and gather, and the second when Gloucester's blindside flanker cut the perfect line to a perfect cut out pass.
He simply didn't put a foot wrong.
No matter what Bath threw at Gloucester's playmaker-in-chief – and they threw plenty, some of it borderline legal – he bounced off the ropes, dusted himself down and delivered another dagger blow.
Even the clumsy first-half attempt to intimidate when Bath prop Henry Thomas thundered into the fly half moments after he'd passed to Ackermann to put his side 14-0 in front could not knock him off his stride. Cipriani gave every bit as good as he got.
Two games into the Gallagher Premiership and the debate is over. If Cipriani is fit, he must start at No 10 for England in their opening November Test at Twickenham on 3 November.
Gloucester director of rugby Johan Ackermann is playing precisely right. He's made Cipriani the top dog and letting him boss the show.
He's being rewarded with the kind of consistent excellence many of have believed Cipriani to be capable of for the past decade only to see him denied countless caps by a combination of overly-conservative coaches, rugby's rumour mill exaggerating his divisiveness and the occasional piece of frustrating stupidity by the player himself. He is, after all, a young man.
His brush with the law in Jersey this summer was a case in point. Foolish, naïve and wholly unnecessary. But he's apologised, shown proper remorse, so let's move on.
On the pitch he's been good too often to be ignored now. He's raised his defensive game, cut out the occasional howlers and consistently executed distribution of the very highest quality. His goal-kicking may not be of international standard but that's no problem. Just as his inside centre Billy Twelvetrees kicks the goals at club level, Owen Farrell does it for England. Without the burden of goal-kicking on his shoulders, we're seeing Cipriani's game in all its glory.
Bath knew he was the key on Saturday and Cipriani rolled with the punches.
English rugby has shied away from embracing a difficult but brilliant young man prepared to challenge authority and attempt the unorthodox by backing his skills. It is to the sport's eternal detriment he has not played 100 times for his country.
No-one has played better in an England No 10 shirt than Cipriani did when he first started against Ireland at the tender age of 20 on 15 March, 2008. So much time and hot air has been wasted on discussing his merits since. A horrific broken leg that year didn't help and nor did his propensity to call out coaches where he saw fit. Martin Johnson couldn't stand him. He challenged him too much.
But Jones needs him. England needs him. George Ford needs some time in the ranks to re-energise his game and remember what made him excel a couple of years ago. He needs to play flat, bring defenders on and back himself to deliver audacious but technically perfect passes to put players around him into space.
Indeed, he needs to watch Cipriani.
Eddie Jones may have seen enough by 79 minutes on Saturday. But there is so much more to come. Finally, a decade too late, English rugby is waking up to the genius in its midst.