Zebo says he 'wouldn't understand' Six Nations snub as he's 'fully eligible' right now

Extra.ie
12/01/2018
Simon Zebo has said that he 'wouldn't understand' it if he wasn't picked for the upcoming Six Nations tournament — as he is 'fully eligible' as a Munster player this season.
French Top 14 side Racing 92 confirmed this week that Zebo will join up with them, days out from their clash with Munster in the Champions Cup in Paris.
When news emerged before the Autumn internationals that Zebo would be leaving Munster at the end of the season to head abroad, the player was subsequently omitted from Schmidt's squad.
But speaking to French publication l'Equipe, Zebo said he still holds out hope for a Six Nations call-up.
'It's unfortunate but that's the way it is,' he said.
'There were players in this situation before me and they continued to be called up for Ireland.
'I would not understand if there's one rule for others and another for me. I'm fully eligible because I'm a Munster player until June. I hope I'll be called up for the Six Nations.'
Zebo was referring to Johnny Sexton, who moved to Racing and continued to be called up for Ireland while playing in the Top 14.
He added: 'It's true that Johnny was able to play for Ireland while he was playing in France. It would not really make sense if I became unable to be picked while I'm still playing with Munster.'
Speaking in December about the Six Nations Zebo said: 'Joe said the door wasn't closed so if he is telling the truth and I'm playing well (for Munster), then I might have a chance to get in there.
'It's up to the coaches if they want to select a player. If they don't feel the need then that is their call. It's nothing really to do with me. If I'm playing good rugby and I'm playing with Munster, then I see myself in contention.'
Ireland coach Joe Schmidt has told Zebo that the door was not closed in terms of Six Nations selection
Speaking about his ambitions with Racing and his reasons for going to the club, he said: 'I wanted to come to a team that were at least as ambitious as Munster. Racing want to dominate Europe and the French championship.
'I don't want to just be happy to live in France. I want to win titles – to have an impact in a winning team.'
Unforgettable moments in Six Nations history (Photos)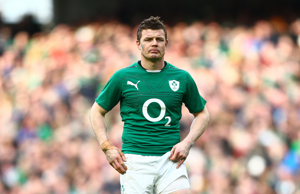 Never miss an important story, Follow us on Facebook, and on Twitter