Low-cost airline launches budget flights from the UK and US to India - but you must go via Iceland and can only take one carry on bag

Daily Mail
15/05/2018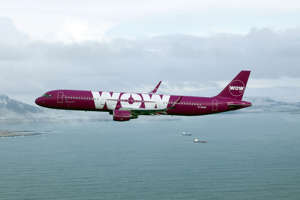 The first budget airline services from the UK and US to India are set to take flight later this year.
However, the low fares come at a price - passengers must go via Iceland and the cheapest seats only allow one piece of hand luggage.
WOW air service will launch the services in December departing from London Gatwick, via Reykjavik's Kefavik Airport and then on to Delhi.
Meanwhile those in the US can fly from Newark, Boston, Baltimore, Chicago O'Hare, Pittsburgh, Detroit, San Francisco, Los Angeles and St. Louis.
Again these will include a stopover in Iceland before a 10-and-a-half hour flight to the Indian capital.
But the Icelandic-based carrier says despite the stopover in Reykjavik, its cheap fares will convince passengers that the detour, especially from London, is worth it.
Prices from London start from £149 one-way while flights from the US will start from $199 one-way.
The airline will also use the brand new Airbus A330neo aircraft on the route, and the service will fly three-times a week from December 5 but will increase five times a week in January 2019.
Skuli Morgensen, founder and CEO of WOW Air said: 'I am thrilled to broaden WOW air's offerings and bring low fare international flight service to India.
'We are passionate about continuing our mission of enabling everybody to fly by making international travel accessible and affordable for all, and look forward to expanding our global service to provide travellers with the opportunity to see many parts of the globe, whether for business or pleasure.'
Earlier this year, WOWAir announced it was launching a new route from London Stansted to JFK International via Reykjavik, which began last month.
The carrier already operates a route to Newark Liberty International Airport as well as Chicago, Pittsburgh, Toronto, Boston, Montreal, Washington D.C. and Californian destinations Los Angeles, San Francisco and Miami from London. 
The airline also announced new routes earlier this year to Detroit, Cleveland, St. Louis and Cincinnati, which commenced last month.
At the tail end of this month, the airline will also be increasing the frequency of its daily service to Newark, bringing the total number of flights to 13 per week.
Never miss an important story, Follow us on Facebook, and on Twitter
Search on Bing:
More about Gatwick Airport
Search on Bing:
More about Gatwick Airport