Ducati announces first DRE Track Day for India

Bikewale
11-09-2018
- Will be held on 13 adn 14 October at the BIC, Noida
- Is open to non-Ducati owners as well 
- Ducati test ridre Alessandro Valia will lead the experience
- Test rides on a Panigale V4, 959 Panigale and SuperSport are available for a fee
Ducati has announced the first of the DRE (Ducati Riding Experience) Track Days on the 13th and 14th of October at the Buddh International Circuit, in Noida. It will be led by Alessandro Valia, who has a decade of experience as a DRE trainer, and is a Ducati test rider as well.
The DRE Track Day is open to all Ducati owners, except owners of the Scrambler range. It is also open to non-Ducati owners who own sportsbikes of 600cc or more. All Panigale V4 owners can register for the DRE for free, but it will cost ₹10,000 for the other Ducati owners. In addition, there are fees if the owners want to test-ride a Panigale V4 (₹5000), 959 Panigale (₹3000) or a SuperSport (₹2000). Ducati owners will also get training by Mr. Valia, which includes three track sessions of 20 minutes each, 3 laps on a Ducati of their choice, a Ducati Fan Kit, technical assistance, discounts on spares, and a DRE participation certificate.
The schedule is a little different for non-Ducati owners: they get two track sessions of 20 minutes each, and for a fee, they are allowed 3 laps of the BIC on a Panigale V4 (₹16,000), 959 Panigale (₹12,000) or a SuperSport (₹10,000). They will also get a Ducati Fan Kit. 
Also watch on MSN: New Ertiga to be launched in Oct end
(Video provided by NDTV)
In pics: 11 safest small cars in 2018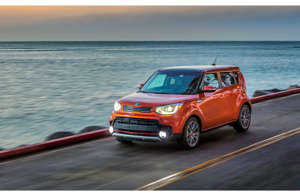 (Slideshow provided by U.S. News & World Report)
Download the Microsoft News app for your Android or iPhone device and get news & live updates on the go. Follow our Autos section in English and Hindi.