Government extends electric vehicle subsidies by six months

Bikewale
15-04-2018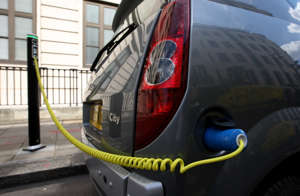 © Getty Electric Car. (Image for representation only)
- Government extends FAME India scheme
- To continue offering subsidies on electric vehicles till 30 September
- No license required for setting up charging infrastructure
The government has given electric vehicle segment a shot in the arm by extending Faster Adoption and Manufacturing of (Hybrid and) Electric Vehicles India scheme for another six months. Better known as FAME, this scheme is responsible for the subsidies that have made electric vehicles affordable.
Read: Top 5 fastest electric cars in the world
The phase-I of the FAME India scheme was announced in 2015, and lasted for two financial years, until March 2017. And while the phase-II is being worked upon, the government has since then been extending it for six months at a time. As of now, the phase-I has been extended until 30 September, or till the launch of the phase-II, whichever is earlier. NITI Aayog, a think-tank which advises the government on the economic policy-making process, is currently working on preparing the phase-II of FAME India scheme. Under the current policy, electric scooters benefit from incentives of Rs 22,000 which has helped bring down their purchase cost.
Also watch: First drive of new Toyota Yaris
(Video by NDTV)
The government gave another push for the segment by announcing that setting up electric vehicle charging infrastructure would not require any license. Under the Electricity Act, 2003, a license has to be obtained for the transmission, distribution or trading in electricity. However, the power ministry clarified that a charging station does not fall under the category and hence, wouldn't require a license to set up or operate.
Although there isn't any clarity on what it would offer, the phase-II FAME India scheme has made manufacturers like Hero Electric confident about increasing its sales number 10-fold in the next five years. While the company sold over 25,000 electric scooters in the last financial year, Hero Electric is projecting sales to touch 2.5 lakh units by 2022.