In Nagaland, new NPF MLAs demand Innova, say Duster not good enough

Hindustan Times
11-03-2018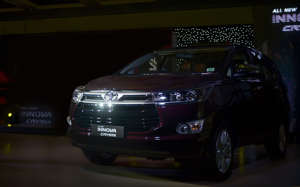 They are yet to take oath as legislators, but before doing that some newly-elected MLAs from Naga People's Front (NPF) want to ensure that they move around in comfort.

On Saturday, 11 of the 27 new legislators from the opposition party wrote to the commissioner and secretary of the Nagaland assembly to allot them Toyota Innova- Crysta instead of Renault Duster.
"It is learnt that the assembly secretariat is planning to allot Duster vehicle to the MLAs. We the undersigned NPF legislators have decided not to accept the said allotment because of maintenance issue," the letter said.
"Instead, arrangement may kindly be made for allotment of Toyota Innova Crysta (top model) to all of us," it added.
Also read on MSN: Hyundai i30 spotted in India
It is not learnt whether the assembly secretariat has made any proposal yet on allotment of vehicles to newly elected MLAs.

While a top-end model of Duster costs nearly Rs 13 lakh, the high-end variant of Innova Crysta costs over Rs 22 lakh.
Also read on MSN: How Congress lost Tripura and Nagaland assembly elections
"Some members of the NPF don't like it (Duster). They opted for the other brand (Innova-Crysta). I too signed the letter," confirmed Imkong L Imchen, NPF MLA from Koridang in Mokokchung district.

NPF-led Democratic Alliance of Nagaland (DAN), of which BJP was also a part, was in power in the state from 2003. But ahead of last month's election, the saffron party severed its ties with the regional outfit and joined hands with newly former Nationalist Democratic Progressive Party (NDPP).
© Provided by Hindustan Times

Though NPF emerged as the single largest party winning 27 seats in the 60-member assembly, NDPP-BJP alliance, which secured 29 seats (NDPP with 17, BJP-12) was able to form the new government headed by Neiphiu Rio withe the support of an Independent and a JD (U) legislator.

"We came to know about the plan to allot vehicles on Saturday. Since Duster is not viable to operate on Nagaland's hilly terrain, we want Innova Crysta. We have not heard back from the secretariat. Hopefully, they will take a decision next week," said CL John, NPF legislator from Tehok in Mon district.
Watch video: Hyundai Kona Electric India launch in 2019
(Video provided by NDTV)
Condition of roads in Nagaland is among the worst in the northeast and in successive elections political parties make promises of smooth roads and better connectivity.
This time BJP had promised "all-weather roads", "latest technologies in road construction and maintenance" and a task force to clear landslides and repair roads and drains within 24 hours.