Volkswagen plans "significant" cost savings to invest in future

Autocar
06-12-2018
Volkswagen has released details of a wide-reaching plan to reduce costs and improve profitability, with a focus on streamlining its model portfolio.
© Provided by Haymarket Media Group

The plans, confirmed by chief operating officer Ralf Brandstatter at the brand's annual conference, will see the number of model variants significantly reduced. "Next year we will be discontinuing 25% of engine and gearbox variants across Europe" Brandstatter stated.

There will be also be a "more intelligent" streamlining of equipment packages in cars, with a "comprehensive reduction in complexity" across the brand. Further targets include an average increase in plant productivity of 30% up to 2025, and an optimisation of material costs. 
VW's operating profit is down 6% in 2018 to €2.3bn, with blame shared between the delivery disruption caused by the new WLTP testing regime, the "lack of enthusiasm for diesel" in Europe, and changes in the political framework including Brexit and the trade war between the US and China.
Now get the stories that matter delivered to you! Save our number and send "Hi" to +919971254657 to join the MSN WhatsApp alerts service today.
The cost saving processes were already under way in 2018, with savings of €2.2bn reported, while by 2020 VW plans to have shed around €3bn from its expenditure. Those savings are said to be invested in the "electrification and digitalisation of the brand", including everything from the expansion of the MEB electric platform to investment in charging infrastructure.
VW is targeting an operating return of 6% by 2022, three years earlier than originally planned. The expansion of the MQB platform, set to underpin 80% of Volkswagen's global model range by 2020, will also help VW achieve these goals. 
Also watch: Rolls Royce Cullinan launched in India, price and specs
(Video provided by NDTV)
It's not clear yet which models or trim variants will face the axe in the coming years, with the company only specifying that variants with "low customer demand" will be removed.
The Volkswagen brand alone will spend over €11bn in future tech in the next six years, with €9bn spent on e-mobility. Throughout the VW Group, as many as 15 million MEB-based electric models are expected to leave assembly lines. 
In pics: 2020 Toyota Corolla: First Look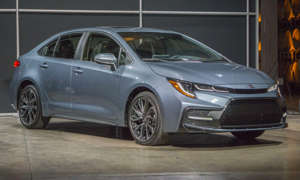 (Slideshow provided by AutoNxt)