Amazing cars of the Salon Privé at Blenheim Palace

Photos
03-09-2015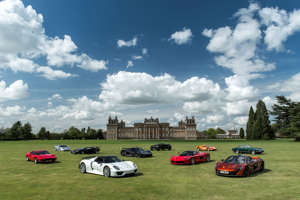 © Max Earey - Salon Prive 159

Salon Privé, one of the most prestigious motor shows in the world, is being held at Blenheim Palace in Oxfordshire, England, from Sept. 3-5, 2015. The boutique motor show that celebrates its 10th anniversary this year has wowed automotive enthusiasts with its eclectic mix of classic, luxury and premium supercars over the past decade. Cars will be showcased in 10 different categories and will also vie for the title of "Best of Show." We take a sneak peek at a selection of the stunning cars that will be on show at this year's Salon Privé.
Concours d'Elégance entrants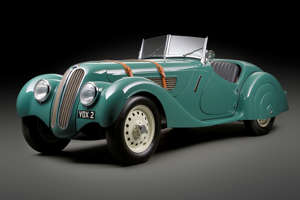 © FLUID IMAGES

1937 BMW 328 
In Pre-war Luxury & Touring Class is the 1937 BMW 328, which reigned supreme on the racetrack, winning its class at the Mille Miglia, Le Mans and Spa 24 Hours. Between 1936 and 1939, only 426 BMW 328s were made, of which fewer than 200 are believe to exist today. This particular car raced at the Nurburgring in 1937 in the Sportwagen race supporting German Grand Prix, and finished in the 6th position.


© Provided by Prive Salon  
1937 Delahaye 135MS
The stunning 1937 Delahaye 135MS Cabriolet will also be competing in the Pre-war Luxury & Touring Class, and was one of 11 cars built in the Paris Auto Salon Series between 1936 and 1939. Today, it is just one of the three surviving cars built on the standard wheelbase. In 2006, the car underwent a final restoration with the guidance of Claude Figoni.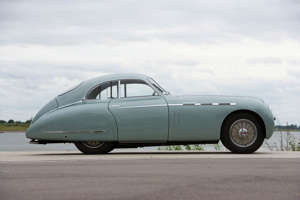 © Provided by Salon Prive

1950 Talbot-Lago T26 Grand Sport Coupé
For post-war beauties, visitors will be able to feast their eyes on the 1950 Talbot-Lago T26 Grand Sport Coupé. One of just 36 Grand Sport Talbot-Lagos produced between 1947 and 1953, this remarkable right-hand-drive example was bodied by one of France's most flamboyant coachbuilders, Jacques Saoutchik. His distinctive style is recognizable in the bright appliqué that adorned so many of his creations, highlighting the dominant lines of the coachwork.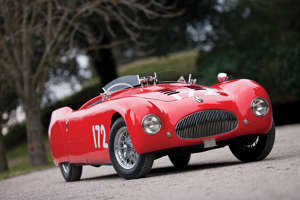 Cisitalia 202 SMM Nuvolari Spider — 'Wind in your Hair'
As one of the stand-out cars of the immediate post-war period, the Cisitalia 202 SMM Nuvolari Spider is forever linked with the 1947 Mille Miglia. This sister car to the race winning 202 Spyder, driven by Tazio Nuvolari, was entered by the factory team and campaigned by Eugenio Minetti, with Piero Facetti alongside, to 4th overall in the legendary race. As the only steel prototype Spyder, this car is noticeably different from its siblings, and following the race, returned to the factory for a fresh engine before being sold to a U.S.-based owner. It changed hands a number of times before returning to Europe and has driven in several Mille Miglia Retrospectives. As such, it has achieved the distinction of racing in period and celebrating the great road race in the modern era.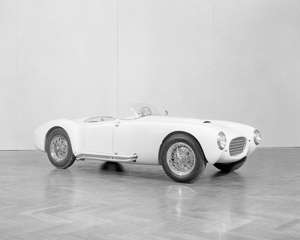 © Carrozzeria Motto Guy Berryman

Goldmanini - Motto — 'Wind in your Hair'
Originally conceived as an ultra-lightweight racing special, the unique barchetta's chassis and bodywork were provided by Carrozzeria Motto of Turin — known for its lightweight aluminium bodies. It was then shipped to the U.S., equipped with a 1100 Fiat 4-cylinder engine and christened by its owner, Max Goldman of Michigan, as the Goldmanini. As a one-off, the car was an evolution of lightweight racing cars based around MG TDs of the 1950s, yet it featured a far more muscular shape than the previous cars. The car proved so pretty that it attracted the admiration Karl Ludvigsen, who stopped to photograph it on a forecourt. It never delivered on its potential as a serious SCCA class G competitor, and after languishing for a number of years in disrepair, it was rescued by its current owner, brought to the U.K. and given to Thornley Kelham Ltd. for an exhaustive restoration. The 2015 Concours d'Elégance marks this special car's renaissance.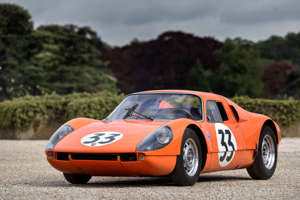 1964 Porsche 904 Carrera GTS — 'Competition Cars'
Created to bring Porsche back to its racing car roots, this fiber-glass bodied 904 Carrera GTS was built in 1964, and marked a transition from the aluminum 550 and 718 Spyders that preceded it. Now owned by Philip Basil, chassis 055 — one of around 100 cars built — was delivered new to Ben Pon in May 1964. One of a pair of 904s run by Racing Team Holland in the 1964 and 1965 European GT Championship, both cars were painted in the distinctive Dutch national racing color of orange. Pon drove it with great success, achieving 13 class wins and a further five podiums out of 19 starts. As a result, he won the under two-liter category of the European Championship in 1964 and 1965. The car raced at all the great European circuits, including Le Mans, the Nurburgring, Spa and Monza, and competed successfully against larger-engined GT cars such as the Ferrari 250 GTO, AC Cobra and Jaguar E-type, often beating them on the more twisty circuits.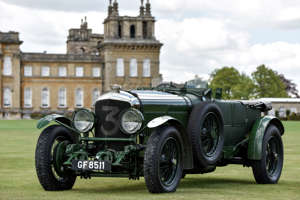 1930 Bentley Speed Six — 'Competition Cars'
Famous in classic enthusiast circles, this car is the original and genuine Bentley Team car known as 'Old Number Three,' and retains its original engine, transmission and chassis. Chassis no. HM 2869 was built in 1930 and along with its sister car, Number Two, they were the last two cars produced on the Speed Six production line and commissioned for the Bentley Racing Team. These team cars differed substantially in detail from the production cars, built with only one aim in mind — to win the two most important long-distance sports car races of the day, the Double Twelve at Brooklands and the 24 hour race at Le Mans. Driven by Sammy Davies and Clive Dunfee, the car finished second in the Double Twelve at Brooklands on May 9-10, 1930, and over the 24 hour race, it averaged in excess of 86 miles per hour (138 kph). At Le Mans later on that year, Dunfee misjudged the Pontlieue hairpin and slid into the sand bank, thereby ending its race. The Bentley team went on to famously win Le Mans that year, as Old Numbers 1 and 2 took first and second place at finish. In 1931, Bentley sold the car to Humphrey Cook and he allowed Tim Birkin to run Number 3 in the 1931 Double Twelve at Brooklands where, again, sadly it didn't finish.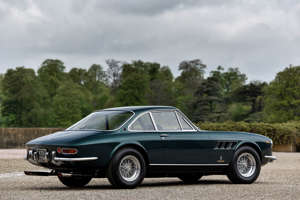 1966 Ferrari 330 GTC — 'Pininfarina & The Prancing Horse'
Introduced at the Geneva Motor Show in 1966, the Ferrari 330 GTC Berlinetta was more refined than earlier Ferraris, making it quieter and easier to drive. The two-seater coupe with a Pininfarina-designed body shared the short wheelbase of the 275 as well as its independent rear suspension with the added benefit of a four-liter V12 Columbo engine. This Pininfarina-designed car was built in July 1966 and delivered new to Torino, in its original color Verde, with a Verde interior, where it was sold to first owner Sig. Rosso. In the early seventies, the model was exported to the U.S. and repainted red, and re-trimmed with a black interior. In 2011, it was imported to the U.K. and sold to its present owner James Needham. Since procuring the car, Needham has completely restored it to its former glory with the help of Barkaways Ferrari specialists in Kent, with a Pino Verde exterior and tobacco interior, giving it the prestigious appearance it deserves.
Pirelli Prestige & Performance entrants
1993 Bugatti EB110 Super Sport Prototipo — 'Pre-Millennium Supercars'
Forty years after Ettore Bugatti's death in 1947, the marque was acquired by Italian businessman Romano Artioli, whose aim was to create a state-of-the-art supercar. The EB110 was unveiled in 1991, to celebrate Ettore's 110th birthday, at the Palace of Versailles, and was considered to hold its own against Ferrari's F40, Porsche's 959, and Lamborghini's new Diablo. Only 126 examples were built, but this example is the rarer EB110 Super Sport, which boasts in excess of 600 bhp and a claimed top speed of 218 mph (350 kph). Manufactured in 1993 by Bugatti Automobili Spa, this Super Sport was the sixth car produced and was retained by the Bugatti factory as a prototype to address any issues arising in owner cars. As a result, it has several factory modifications not present on other EB110s, including a twin-tank single filler system and revised gear selector. Sold in 1997, as the company was liquidated, the light metallic-grey EB110 Super Sport has less than 2,050 miles (3,299 kilometers) on the clock and is presented in Concours condition by its owner Simeon Van der Molen.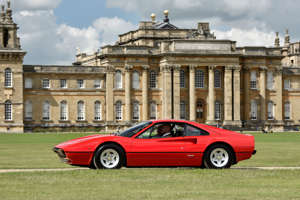 1977 Ferrari 308 GTB — 'Celebrating 40 years of the iconic Ferrari 308 GTB'
The Ferrari 308 GTB was first revealed to the world at the Paris Motor Show in 1975 as a direct replacement for the two-seater Dino 246. The V8 mid-engined Berlinetta beauty was sibling car to the targa-topped 308 GTS, with which it shared many of its mechanical attributes. Built in 1977, this example was purchased by an Italian Fiat dealership, closely connected to the Ferrari Factory. Only used occasionally for holidays, it wasn't registered in Italy until the mid-90s. It remained original in its entirety — even retaining the plastic covers over the interior side pockets — until last year when it underwent refurbishment at Barkaways in Kent, thanks to its current owner Richard Green. Described by the specialist as "the best condition and most original 308" they'd ever seen, it has a mileage of just 8,624 miles (13,300 kilometers).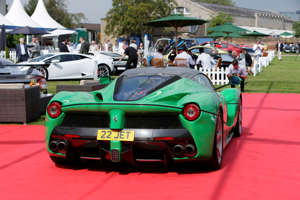 LaFerrari — 'Blink and it's Gone!'
Jay Kay's infamous green LaFerrari is in this class. Well known for his impressive car collection, Kay proudly enters his LaFerrari, one of the marque's most ambitious project yet. Pushing the boundaries of technology on a road car, it showcases Ferrari's technical capabilities in both GT and Formula 1 engineering.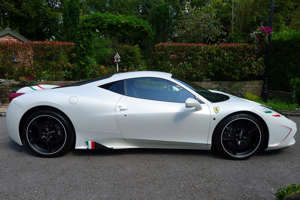 2015 Ferrari 458 Speciale Tailor-Made
One of the newest cars in the competition is a 2015 Ferrari 458 Speciale Tailor-Made. Competing in "Built for Speed," this model was built to the owner's specification as part of an exclusive new personalization program from Maranello. This 458 Speciale takes inspiration from Ferrari's sporting history, offering a brace of racing-derived materials, finishes and liveries.